Queen Elizabeth II Wants To 'Advise' Meghan Markle About Avoiding These 'Blunders'
As Meghan Markle approaches her 38th birthday, Queen Elizabeth II reportedly wants to help the Duchess of Sussex avoid "any further PR blunders." According to a royal expert, the monarch plans to take Meghan "under her wing" for a private chat as she celebrates the occasion at Balmoral Castle on Aug. 4.
As reported by Daily Mail, the Queen wants to do this because she is quite fond of Meghan and wants to help her navigate the tricky world of royal fame. This assistance would come on the heels of Meghan being slammed for a variety of things, such as wearing jeans at Wimbledon. She also shouldered most of the blame for wanting to keep a lot of details surrounding her and Prince Harry's son Archie Harrison's christening private.
Additionally, Meghan has also been said to be behind the costly decision to revamp Frogmore Cottage, choosing not to release who Archie's godparents are, and for allegedly being the true cause of the rift between Harry and his brother, Prince William.
READ: Did Queen Elizabeth II Have To Approve Archie's Name For Meghan, Harry?
If the Duchess of Sussex does, in fact, travel to the Scottish castle, it would be the first trip she has made there. It is said that being invited there by the Queen is a "huge honor" because it is said to be the Queen's favorite home. Due to the special meaning it holds to the monarch, invitations are seen as key indicators of social status.
On top of the potential advice, reports have emerged that Her Majesty also wants to gift Meghan with something thoughtful, in addition to bringing in a catering team to bake a cake for the big day.
According to The Sun, royal expert Phil Dampier thinks the visit will give the Queen a chance to "advise" the newfound royal and that it "might be a good opportunity to have, not an assessment of her, but a quiet chat away from the madding crowds as to how she thinks it is going."
Continuing, he said, "I think in quiet moments and quiet walks up by the river the Queen might have a few words of advice for her."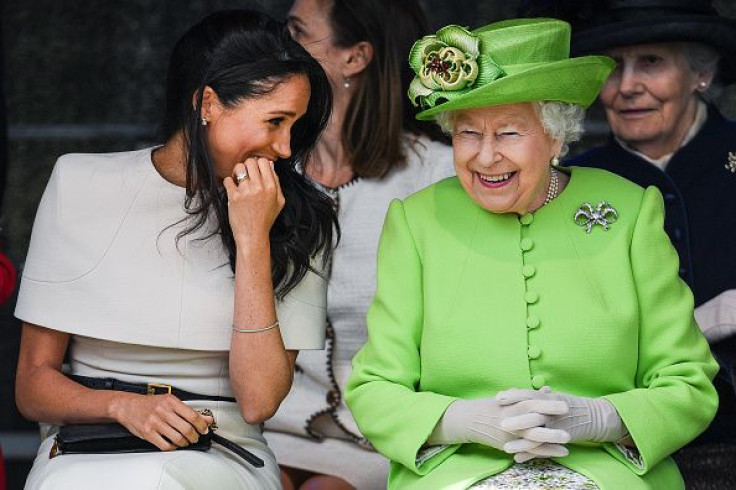 © Copyright IBTimes 2023. All rights reserved.