Rafael Nadal News, Schedule: Will Rafa Qualify For ATP World Tour Finals?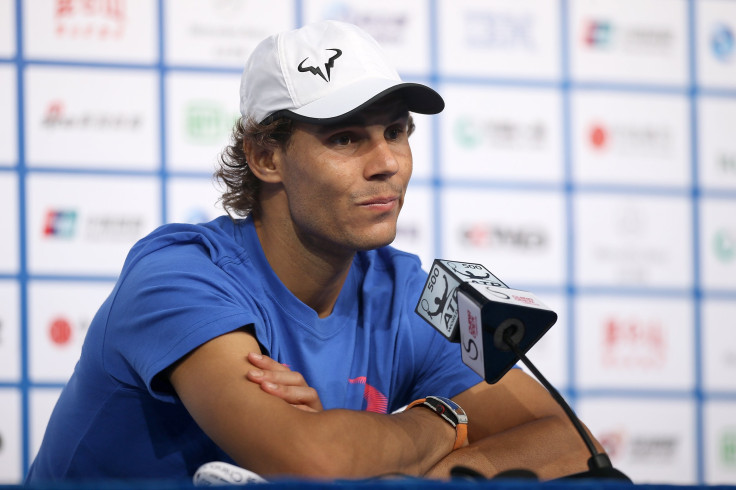 Rafael Nadal returns to action this week in Beijing looking to bounce back from his latest Grand Slam disappointment and take a step toward confirming his place at November's ATP World Tour Finals. Other than a routine Davis Cup victory with Spain over lowly Denmark last month, when Nadal steps on the court in the Chinese capital it will be his first outing since being stunned in the third round of the U.S. Open by Fabio Fognini.
The loss from two-sets up completed a year to forget in tennis' Majors for the Spaniard. Indeed, it will be the first time since he landed his first French Open as a 19-year-old in 2005 that Nadal will go through a season without landing a Grand Slam title. And he didn't even come close to doing so, with his best results being quarterfinal exits at the Australian and French Opens.
Instead, his focus must now be on salvaging something from his 2015 at the showpiece year-ending event in London. First, though, he needs to make sure he gets there.
The top eight ranked players for the year will make it to the Tour Finals, with Nadal currently lying in seventh place. The good news is that the 29-year-old has a sizable cushion to those below the line. In fact, he is much closer to fifth-placed Tomas Berdych -- 385 points difference -- than he is to ninth-placed Richard Gasquet, currently 1360 points behind him.
Any of the gaggle of players bundled closely below the cutoff line will have to put together a stunning run of results in the final weeks of the season to challenge Nadal. But the man from Mallorca will want to put his qualification in his own hands, which he can start doing at this week's China Open, where 500 ranking points will be at stake. Before the end of the year, Nadal is also scheduled to take part in ATP Masters 1000 events in Shanghai and Paris, as well as another 500-point tournament in Basel.
For Nadal, the remaining schedule brings an opportunity to build momentum ahead of what he is hoping will be a much-improved 2016 season. And, despite the continued poor results, the former world No. 1 believes he is heading firmly in the right direction.
"I was not able to control my emotions on court for a lot of months, so when that happens it's almost impossible to play well, no?" he said in Beijing, reports AFP. "Last couple of months I'm feeling that I recovered that. I don't feel that I am suffering on court as I did the first six, seven months of the season.
"I feel that I am more under control of my emotions on court. So that's a very big advance for me. I am working very hard and I have the motivation to improve my game again. So I try a little bit to play with calm. I believe that sooner or later I will be playing at a very high level again."
Nadal is the third seed in Beijing, behind Berdych and top-ranked Novak Djokovic. In the opening round, he will take on Chinese wild card Wu Di, ranked 230th in the world.
© Copyright IBTimes 2023. All rights reserved.