Election 2016 Rand Paul: Ahead Of Democratic Debate, GOP Candidate Will Use Facebook To Live-Stream Entire Day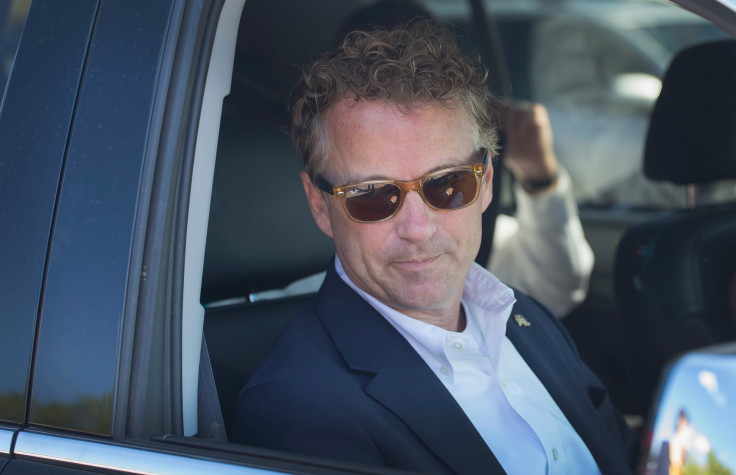 Since he launched his presidential campaign, Kentucky Sen. Rand Paul has been asking his constituents to stand with him. Now, Paul wants them to spend nearly all waking hours with him.
The Republican will be streaming live video on his Facebook page and on UStream.tv. The broadcast will begin Tuesday morning and last through the first Democratic debate, scheduled to air at 8:30 p.m. EDT Tuesday on CNN, Rare reported.
"It will be the Rand Paul campaign's version of 'The Truman Show' or 'EdTV'," Vincent Harris, head of Harris Media who oversees the campaign's digital strategy, told Rare.
The campaign will be using Facebook Live, a feature offered to public figures and other Facebook users with verified accounts to stream live video via a mobile app. Live is a component of Facebook Mentions, an invitation-only service to manage accounts, and was introduced in August.
Facebook's feature cuts out users from streaming every hour. Harris told International Business Times the campaign will be supplementing with a feed on UStream.tv to keep the stream continuous. The team also will have multiple smartphones on hand.
These phones will not just be held by Paul, but also streamed by staffers. Harris told Rare the initiative not only grants live, real-time, interaction with the candidate, but also grants a look at campaign staffers.
Facebook users can "Like" Rand Paul's campaign page to receive a notification as the stream begins or can simply go to the page throughout the day to check in on the status. The feature allows broadcasters to see comments on Facebook made by the network's user. The campaign also encouraged users to tweet with the hashtag #randlive, which the team will be monitoring, to interact with Paul. Some Twitter users have already taken to using the hashtag.
The move follows other presidential candidates leveraging social media as a way to enter the conversation -- even when the spotlight is not on them. Democratic candidate Sen. Bernie Sanders of Vermont took to Twitter, with the hashtag #DebateWithBernie, to offer commentary for the three-hour Republican debate Sept. 16. The hashtag has generated more than 125,000 tweets in the past month, data from social analytics firm Topsy show.
Sanders' strategy, as well as Paul's, crosses party lines, allowing Republican and Democratic contenders to debate each other when there is no official stage set.
"We don't have to wait for the general debate to see the debate," Bridget Coyne of Twitter's government and media team, said at the Forbes Under 30 Summit in Philadelphia last week. "The primary debate is happening on Twitter."
With Harris at the helm, the Rand Paul campaign has cast itself as the "most digital savvy and transparent campaign," Harris told Rare. The campaign was one of the first to release a mobile app, titled "Rand Paul 2016," in September. The digital strategy aligns with Paul's attempt to reach younger voters. Paul will be touring 11 college campuses this week in Iowa.
Many of the 2016 candidates' social media plays have flopped. New Jersey Gov. Chris Christie lost control of his #TellingItLikeItIs Twitter campaign; #AskBobby made Louisiana Gov. Bobby Jindal the object of ridicule, and Democratic candidate Hillary Clinton quickly walked back her widely mocked request for millennials to use emojis to express their feelings about student debt.
© Copyright IBTimes 2023. All rights reserved.