Rapper Skrill Dilly Denies He's Dating Nia Riley After 'Love & Hip Hop: Hollywood' Star Soulja Boy Threatens Him With A Gun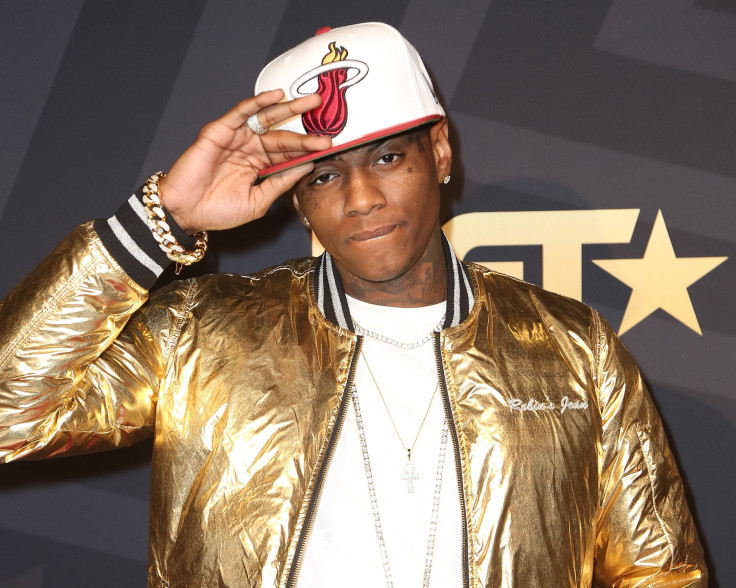 Soulja Boy and Nia Riley's feud has taken a dangerous turn for the worse, and New Orleans rapper Skrill Dilly is trying to remove himself from the drama. Skrill Dilly is rumored to be Nia's latest boyfriend after her split from Soulja Boy, but he denied the romance claiming he's never even met her.
On Thursday, Skrill Dilly took to Twitter to tell fans that he's not dating the VH1 "Love & Hip Hop: Hollywood" star. "Who is @NiaRiley. Never met her b4 but she's gorgeous. I haven't spoken to any media," he posted. Nia fired back writing that he does know who she is. "You BEEN following me! Don't be lame," she wrote. Skrill Dilly eventually deleted his tweet, but added: "@TheShadeRoom for making that up. Me and this woman aren't involved. #EndOfStory."
Skrill Dilly's tweets came after Soulja Boy posted a YouTube video earlier this week threatening Nia and her rumored new boyfriend. "Hey dude, f--- you and f--- Nia Riley," he said. "Stop playing with me 'for some shooters be outside your house. Kill you b---- a-- n----, stop playing with me." According to the Jasmine Brand, Soulja Boy and Nia have been bickering on social media ever since she posted a meme saying that she was "halfway into another relationship."
The rapper has also been going back and forth with Skrill Dilly since last week over a tweet in which Skrill Dilly defended Nia. "@souljaboy gon quit playin with my f----- people @NiaRiley," Skrill Dilley tweeted on Aug. 9 (via Hip Hop All Around). "He know wtf is real out here." Soulja Boy responded to the post telling Skrill Dilly that he would "kill" him. The tweets were eventually deleted.
Nia and Soulja Boy's public feud isn't the first time the former couple has used Twitter to attack each other. In February, Soulja Boy tweeted that he is single and would be appearing on Season 3 of the VH1 show with his new girlfriend. "Yes I'm doing love and hip hop season 3. But I'm single. I'll be with my new girl this season. No more bulls---," he wrote. "Never let a person with negative energy ruin your mood. Stay focused. Happy and blessed." The tweets were later deleted and Soulja Boy wrote that his account had been hacked.
© Copyright IBTimes 2023. All rights reserved.