Raw Video Shows Chaos As Oklahoma Elementary School Students Reunite With Teachers After Tornado [VIDEO]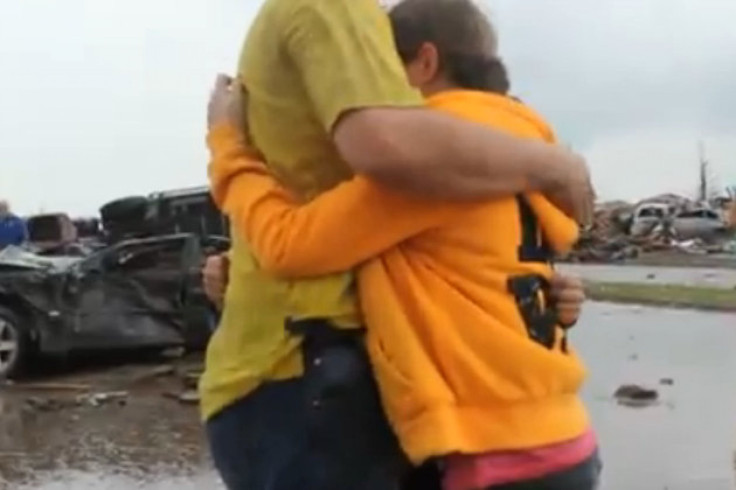 A raw video obtained by NewsOK shows children reuniting with their teachers from Briarwood Elementary School in Moore, Okla., after the deadly tornado.
The video shows children outside, some are yelling, many are crying and covered in mud as teachers try to group the kids by grade trying to make order from the mass chaos. A girl is seen holding another student's hand as they reunite with what appears to be their father. A young boy is seen hugging a teacher.
"My house is down that way," a girl says in the video pointing to the piles of debris that surround the school.
Briarwood Elementary School was among the two schools hit by the deadly tornado in Moore, Okla. The tornado that had winds up to 200 mph killed 24 people, including nine children.
Teachers from both Briarwood Elementary and Plaza Towers Elementary have been credited with saving children's lives.
Mary Jo Evans, a first grade teacher at Plaza Towers' used her body to shield her students as the schools' walls crumbled when the tornado hit, the Los Angeles Times reports.
"It was just unlike anything I've ever experienced to have those children in there and to be in my care and to do what was best for them," Sheri Bittle, a first-grade teacher at Briarwood, told ABC News. "I had them take their backpacks and put them over their heads as another safety precaution."
David Wheeler, a father of an 8-year-old boy that survived, says his son's third-grade teacher, Julie Simon, acted heroically. While other teachers were bringing students into the hallway, Simon brought her students into a closet.
"She saved their lives by putting them in a closet and holding their heads down," he told AP.
© Copyright IBTimes 2023. All rights reserved.