'Real Housewives Of Beverly Hills' Season 7 Spoilers: Eileen Davidson Defends Erika Jayne After Crude Comments From Dorit Kemsley's Husband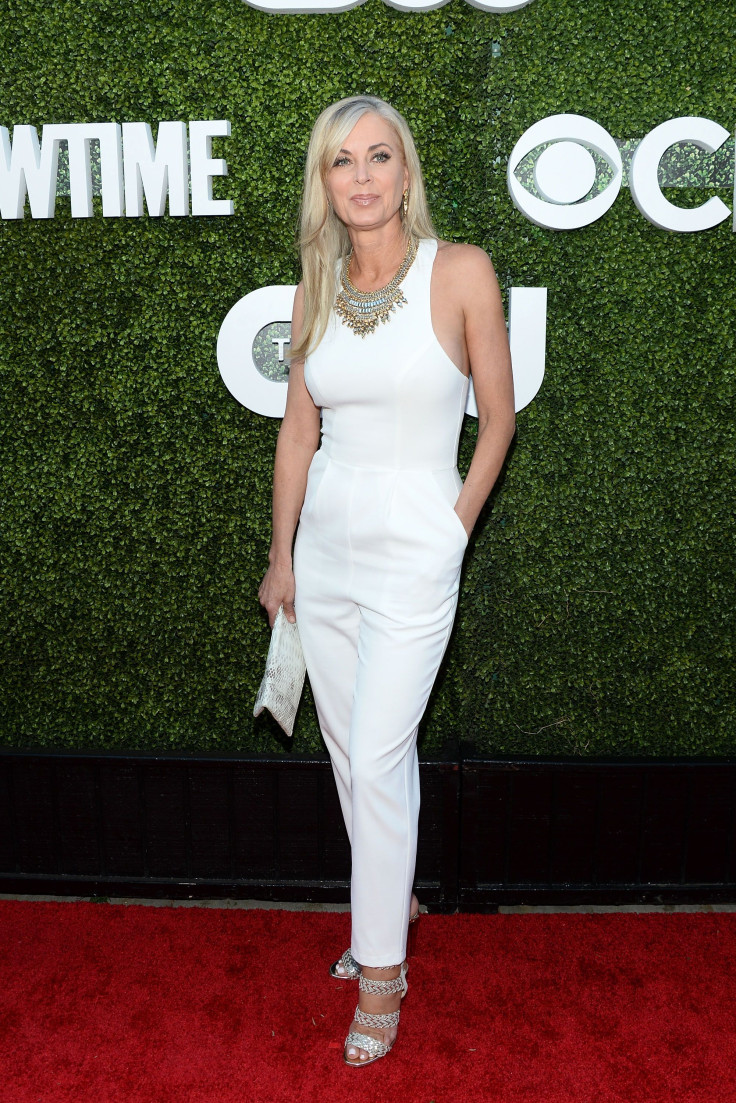 We're just three episodes into Season 7 of Bravo's "Real Housewives of Beverly Hills" and everyone's panties are already in a bunch — everyone who's wearing them, that is.
During Tuesday's episode Erika Girardi — also known by her stage name Erika Jayne — came under fire from newcomer Dorit Kemsley after drawing the attention of her husband, Peter "PK" Kemsley, by accidentally flashing him at a white party.
After the drama played out, Eileen Davidson took to her blog to sound off on the drama, defending the "Painkiller" singer. In her post, the "Young and the Restless" actress questioned what Erika did to deserve having "her body discussed so crudely," referencing PK's claims that he "didn't mind the view" of her sitting across from him sans undergarments.
Eileen refuted Dorit's suggestion that Erika may have intentionally flashed her husband, noting that she had "a napkin over her lap in the company of friends." Additionally, the mother of one said that whether it was on purpose, no woman deserves to be talked about "like she's an object."
"Erika is a wife, a mother and an all-around terrific human being," Eileen wrote. "I was shocked by the vulgarity in which PK and Dorit chose to discuss the situation. It's unfortunate that this is how Erika and Dorit are getting to know each other."
The chances of Erika and Dorit mending fences seem slim. While live tweeting Season 7, episode 3 of "RHOBH" Erika retweeted several posts from fellow "Real Housewives" star Kenya Moore. The "Real Housewives of Atlanta" star took shots at Dorit and the rest of the "RHOBH" cast, suggesting they were boring. She also shaded Dorit for suggesting that Erika was "snooty" and "cold."
The incident in question took place during a white party at "RHOBH" cast member Lisa Vanderpump's West Hollywood restaurant, Pump. Erika, Kyle Richards, Dorit, PK and Lisa's husband Ken Todd were shown spending time together in a secluded area before entering the main party. Referencing a call she got from Kyle before the party began, Lisa jokingly asked Erika to spare a pair of underwear for Kyle, whose garments were showing through her white jumpsuit. Erika retorted that she didn't have any to spare as she was going commando.
After the party, back in the comfort of their massive mansion, Dorit and PK discussed the incident with the talent manager, telling his wife he "didn't mind the view" up Erika's dress. Dorit was clearly annoyed that Erika drew attention from her husband, but claimed he wasn't to blame. PK joked that "maybe Erika's bits are available for the world," ignoring the fact that she has been happily married to lawyer Tom Girardi for 17 years. Both PK and Dorit claimed they thought Erika was wearing nude underwear.
Previews for upcoming episodes suggest "RHOBH" viewers haven't seen the last of the panty-drama. In episode 4, Dorit will jokingly gift Erika with a pair of underwear, which won't be well-received.
© Copyright IBTimes 2023. All rights reserved.