'Real Housewives Of Beverly Hills' Star Kim Richards On 'Dr. Phil': TV Listing Information For The Interview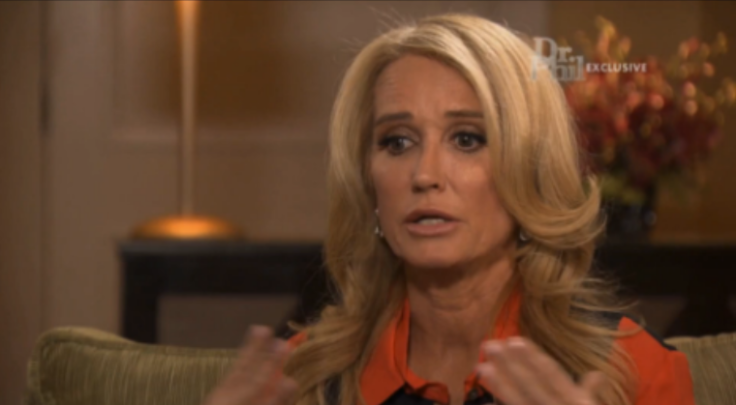 "Real Housewives of Beverly Hills" star Kim Richards is slated to appear on "Dr. Phil" later Tuesday to explain her April 16 arrest. The 50-year-old reality TV figure was taken into police custody around 2 a.m. PDT that day, after causing a scene at the Beverly Hills Hotel. Hotel staff believed she was under the influence of alcohol, which was later confirmed. Prior to her arrest Kim was thought to have been sober for close to three years, although this has been disputed by multiple sources.
Now, facing a July 11 court date, Richards is sitting down with Dr. Phil McGraw for a candid discussion about her sobriety, her arrest and her plans moving forward. Clips for the interview leave a lot to the imagination, although many outlets have speculated about what will be discussed.
"Dr. Phil" airs at different times and channels depending on location. Click here to check out local listings by selecting your state. Here are a few major points we believe will come up during Kim Richards' explosive sit-down. Check it out!
1. A Discussion Of Her Sobriety
Throughout most of Season 5 of "The Real Housewives of Beverly Hills," Kim Richards insisted on her sobriety, which was continually questioned by the other women. She claimed to have been sober for three years, although TMZ has since spoken to sources close to production of the show who say that is a lie. The site reported that she would show up sober, slip away into a bathroom and return under the influence.
2. More Disturbing Details About Her Arrest
In the days following her arrest, multiple outlets reported that there was more to the story than originally hit the Internet. In her discussion on "Dr. Phil," Richards will reportedly share even more -- clips for the highly anticipated discussion show that she plans to explain why she was at the Beverly Hills Hotel to begin with, how much she drank that night, what led to her arrest and more.
3. How Has Her Arrest Affected Her Children?
Richards' three children will appear on the show alongside their mother. They will discuss how their mother's relapse has affected them as well as the factors they believe contributed to it. According to Us Weekly, her children believe the company she's chosen to keep played a major role in her backsliding.
4. Does She Plan To Seek Treatment?
Kim previously checked into rehab in 2011, where she stayed for just one month before leaving on her own free will. Her sister, Kyle Richards, claimed she was on the road to recovery after the short stint, though that has not been confirmed nor denied. Now, TMZ claims the reality TV star is on the verge of getting the ax from "Real Housewives" unless she decides to get help once more. As we previously reported, she may have checked into a Malibu treatment center following the interview, but that remains unclear.
5. Did This Season Of "The Real Housewives of Beverly Hills" Drive Her To Drink?
TMZ reported that watching the acrimonious season of the Bravo reality show caused her to relapse. As you may recall, throughout the show Kim's sobriety was called into question, she dealt with the impending death of her ex-husband and she continuously feuded with her sister, Kyle.
Click here to check local listings for network information.
© Copyright IBTimes 2023. All rights reserved.