Real Madrid Transfer News: Juventus's Arturo Vidal, Man City's Negredo Next For Los Blancos?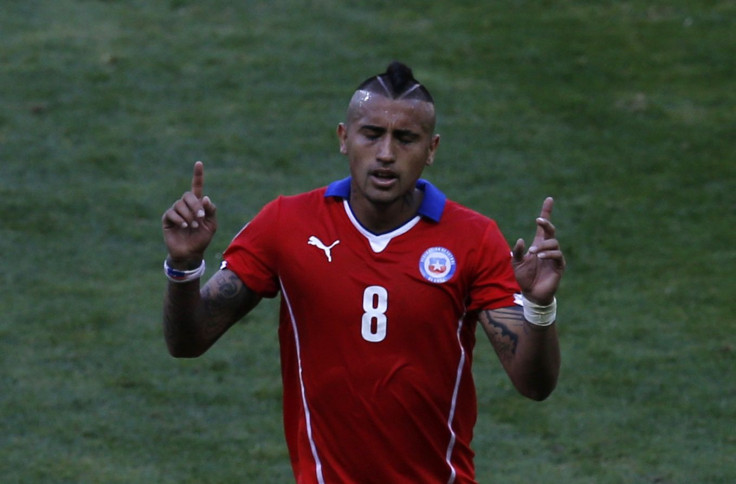 Real Madrid's signing of midfielder Toni Kroos appears to be the first of many splash moves Los Blancos have in store for supporters as the squad prepares its Champions League and Copa del Rey defenses.
Madrid announced the deal for Kroos earlier this week but their not finished, with the latest speculation linking the club to several moves to further bolster its midfield and attack.
With the deal sending striker Alvaro Morata to Serie A champs Juventus complete, Los Blancos are seeking his replacement and it could come in the form of Manchester City's Alvaro Negredo, Metro reported.
Already successful in La Liga with his previous four-year run with Sevilla, during which he netted 70 goals in 139 appearances, Negredo, Madrid believes, could seamlessly make the transition back to Spain from England.
However after he was linked to a move to Atletico Madrid recently, the 28-year-old publicly said he wants to continue his stay with the Premier League champs.
"I don't want to leave City. I'm very happy and settled here," Negredo said.
"I had a difficult end to the season and that's why there's been a lot of talking. But I've been very happy from the first day I arrived."
Negredo scored 23 goals in all competitions for City, but failed to score in the second half of the season after the club paid 16 million pounds for his services last summer.
Atletico evidently offered £12 million for Negredo, but City are asking for more and free-spending Madrid is just the club to appease their demands.
Meanwhile, Madrid are currently battling Manchester United for Juventus midfielder and Chilean star Arturo Vidal, but the 27-year-old is unsure if he would like to continue his career in Italy or elsewhere, The Telegraph reports.
Juventus have said they have no desire to sell Vidal, unless he asks for a transfer. He's played a critical role in the club's three consecutive Serie A titles since arriving in 2011, netting 28 goals in 95 appearances.
Rated as high as £40 million, Vidal said he's aware of United and Madrid's overtures, but hasn't made up his mind yet and would like to continue his vacation before making any decision.
"Have I completed a cycle [at Juve]? I don't feel that way," Vidal said. "Perhaps I will remain at Juventus all my life.
"Once I arrive to Italy I will speak to the coach and see what happens.
"Now the only thing on my mind is that I have seven or eight days of holiday left and I want to go away from Chile in order to have a good rest."
Vidal was referring to Juventus's new coach Massimiliano Allegri, who took over for Antonio Conte after he surprisingly stepped down following three stellar terms at the helm. While Vidal didn't explicitly say his decision hinges on how well he gets on with Allegri, their relationship, or lack thereof, could play a role in his decision to stay with Juventus or leave for Madrid or United.
© Copyright IBTimes 2023. All rights reserved.