Real Madrid Transfer News And Rumors: Bayern Munich's Toni Kroos To Bernabeu? Fabio Coentrao To Liverpool?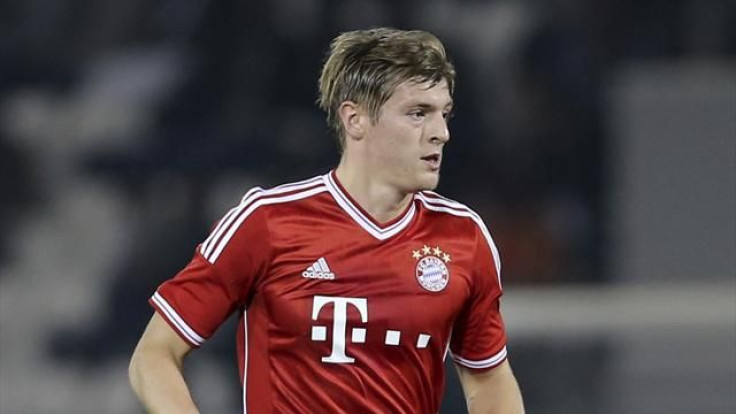 Real Madrid have reportedly joined the race to land Bayern Munich star midfielder Toni Kroos during this summer's transfer session.
Madrid learned their Champions League draw will be the reigning title holder and German giants Munich in the semifinals later this month, but the crucial matchup won't stop the clubs from negotiating possible transfers.
Kroos, 24, was believed to be a top target of downtrodden Premier League titans Manchester United but the addition of Los Blancos have complicated manager David Moyes's hopes, according to Talk Sport. Madrid La Liga rival Barcelona have also kept tabs on the German whose totaled 170 appearances and 23 goals with Munich and one on-loan season spent with Bayer Leverkusen over the last seven years.
Madrid are clearly loaded at midfield with the likes of Sami Khedira, Gareth Bale and Luka Modric crowding the pitch, and thusly Los Blancos will reportedly give Kroos the option of Bernabeu play either this summer or in 2015 when his contract at Allianz expires.
Kroos's market value sits at £33 million, but with the likes of Madrid, Barcelona and United in the mix cost likely won't be an issue.
Next-up on Los Blancos transfer to-do list is how to fill the void at left-back with the departure of Fabio Coentrao seen as absolute, if not imminent, this summer.
Earlier this week, The People reported Coentrao's potential suitors had grown to include Liverpool among the previously interested Manchester City and Ligue 1's Monaco. Playing time has been very scarce for the 26-year-old and all three clubs hold the promise of more regular appearances.
Of late, Benfica's Guilherme Siqueria and Southampton's Luke Shaw have emerged as two defenders Madrid could explore, as reported by Marca.
With Granada owning his rights, Siqueria went on loan to the Portuguese Benfica just before last summer's deadline, but Los Blancos were reportedly chasing him up until the last minute. Hailing from Brazil but spending most of his youth and professional career in Italy's Serie A, Siqueria has made 153 appearances and scored 13 goals over the last four years.
Shaw, an 18-year-old who shares the same agent with Madrid's Bale, has been linked to a litany of English clubs including United, Chelsea and Liverpool. Southampton are keenly aware of the player's value not only to clubs across Europe but his country, with Shaw seen as a near-lock for England's national team for years to come.
Any club hoping to land Shaw will be forced shell out upwards of £36 million, a fee Madrid might pass on for a left-back.
© Copyright IBTimes 2023. All rights reserved.