Real Madrid vs. Atletico Madrid 2015: Early Prediction, Team News And Preview For Latest Derby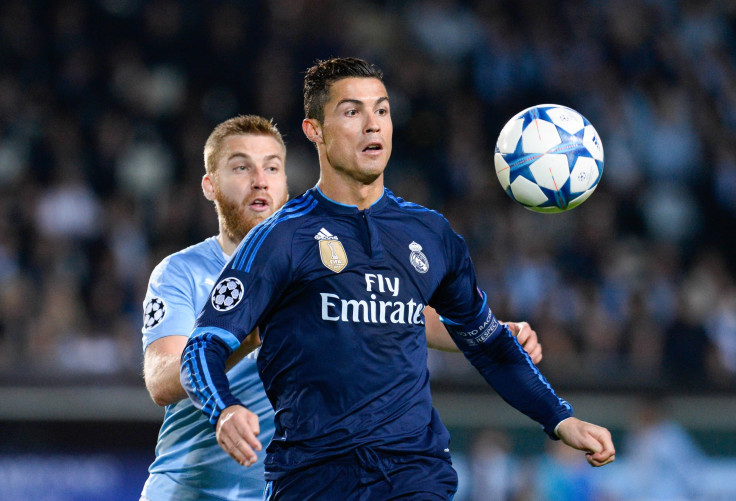 The pressure of Real Madrid's all-time scoring record all but completely relieved, forward Cristiano Ronaldo now leads his squad into an important La Liga match against Atletico Madrid in Sunday's derby at the Vicente Calderon.
The Portuguese superstar's double led to a 2-0 victory over Swedish side Malmo in Champions League Group A action Wednesday and put him level with Raul's record of 323 goals in a Los Blancos kit. Now also credited with 500 career goals, Ronaldo managed to equal Raul in just 308 matches, compared to 741 for the Spanish legend.
The win also keeps Real perfect in the group, and Ronaldo's success could finally translate into results in La Liga.
The 30-year-old netted all five of his domestic goals in one match, but has struggled otherwise, including his 0-for-14 performance in the scoreless result with Malaga that kept Real third on the table.
Atletico are two points back of Real in fifth after suffering their first two losses of the season in their last three La Liga matches, most recently a 1-0 result to early table ruler Villarreal. Unlike Real, manager Diego Simeone's side has let their domestic struggles spill into international competition.
Forward Angel Correa's goal in the 23rd minute handed Atletico an early advantage over Benfica in Champions League play Wednesday, but the attack and lead wilted away despite Atletico's 23 shots to Benefica's six and they fell 2-1.
But, even with Ronaldo on the precipice of history, this is largely the same Atletico side that lost only one of eight matches against Real in every competition last season and decisively owned an 11-3 advantage on the scoreboard. Atletico would of course like to forget, and Real Madrid supporters would also remind them, of the 1-0 aggregate letdown in the Champions League quarterfinals last year.
Still, forward Antoine Griezmann once again leads the attack with three goals, with Fernando Torres next up with two scores, while newest attacking mate Jackson Martinez enters his first foray in the highly contested derby.
Real could also be at full strength with attacking midfielder James Rodriguez's rehabilitation from a torn thigh muscle reportedly ahead of schedule, according to Marca. Manager Rafa Benitez hasn't hinted as to whether or not he will deploy the Colombian talisman who hasn't played since scoring two goals in the 5-0 victory over Betis on Aug. 29, but Marca indicated Rodriguez's availability might be tied to Gareth Bale's fitness.
The Welshman is still recovering from a calf injury and has also sat out for a prolonged period. Bale started Real's 4-0 victory over Shakhtar Donetsk in Champions League play on Sept. 15, but hasn't been fit since.
Real could, however, bring captain and defender Sergio Ramos back into the fold. The Spanish star suffered a dislocated left shoulder against Shakhtar, but tweeted on Thursday that he's back to training with the club.
Prediction: Real Madrid over Atletico Madrid, 4-2
© Copyright IBTimes 2023. All rights reserved.