Real Madrid Vs. Atletico Madrid: Live Stream Details, TV Channel And Preview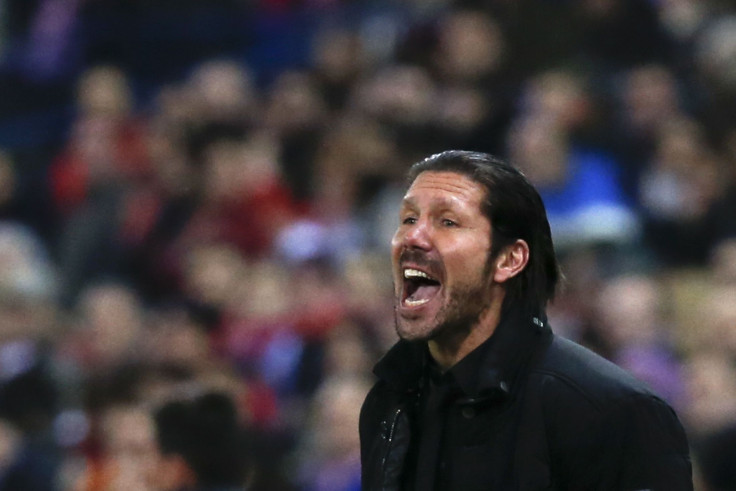 On Wednesday Atletico Madrid return to a stadium that for so long hammered home their second-class status in their own city but has now become a symbol of the rejuvenation that sees them topping La Liga for the first time in 18 years. It was nine months ago that Atletico ended a winless streak of 14 years against Real Madrid. Not just break the unwanted streak but do so in the most euphoric of circumstances when they traveled to their rival's own Bernabeu Stadium and lifted the Copa del Rey.
Diego Simeone's revolution at Los Colchoneros was already well underway at that point, but the victory at the Bernabeu was the realization within his squad and the whole club that they could truly compete with the very best. That continued this season when Atletico again triumphed there in the league. On Sunday it went a step further when they capitalized on Barcelona's defeat the previous day with a 4-0 victory over Real Sociedad to go top of La Liga on their own.
There continues to be the assertion from outside observers that Atletico, with their comparatively small squad, cannot possibly maintain their momentum. Yet, Simeone's men continue to roll on, not just in La Liga but in the Champions League and Copa del Rey, too. Atletico now face their latest challenge of having to get the better of their neighbors if they are to get back to the final in the Copa del Rey. Heading into Wednesday's first leg, Simeone is again happy to play the role of underdog.
"Real Madrid has to go into it as favorite, that does not mean that they will be in the game, but both teams have the same possibilities," he said, according to Atletico Madrid's official website. "The tie is not the same as the League because they are two games, or one long match, depending on the manner of interpreting it.
"The reality is that they have a great team," he added. "We are competing very well."
Atletico's squad has been boosted in January by the arrival on loan of Diego. The Brazilian attacking midfielder, who had a previous successful loan spell at the club two seasons ago, made a dream start on his return when he came off the bench and scored the final goal against Sociedad at the weekend.
Things did not go so well last time out for Real Madrid. A 1-1 draw at Athletic Bilbao was far from a terrible result, but it meant falling three points behind Atletico in the Primera Division standings. The match also saw Cristiano Ronaldo controversially sent off for making the faintest of contact with the face of Carlos Gurpegi. He will now serve a three-match suspension, with two matches being added on for dissent as he left the pitch. Some consolation comes from the fact that Ronaldo will be available to take on Atletico, with the ban only applying to the league.
Still, there remains plenty of reason for optimism for Madrid, with their results and performances having picked up considerably since the New Year. Much of that has been down to a better balance to the team brought about by a switch to a 4-3-3 formation. And manager Carlo Ancelotti is confident that his side will give a better account of themselves than in the clash with Atletico in the league earlier in the season.
"It's a Cup tie and we have 180 minutes over which to win the game," he explained, according to Spanish sports daily AS. "It won't be easy because they are a tough defensive team and they are very strong on the counterattack. We'll have to be at our best. They beat us in the league but Real Madrid have improved a lot since then."
Ancelotti will have Gareth Bale back at his disposal on Wednesday after the Welshman's latest injury, while Raphael Varane could make his first start since November after returning as a substitute against Bilbao.
Where to watch: The first leg of the Copa del Rey semifinal will kick off at 2 p.m. ET. Coverage will be provided by beIN Sports, with a liver stream available via beIN Sports Play.
© Copyright IBTimes 2023. All rights reserved.