Recall: Skippy Voluntarily Removes Certain Peanut Butter Jars From Shelves Over Metal Shards Risk
Skippy Foods announced a voluntary recall of 9,353 cases of various types of peanut butter sold by the company over concerns about the possible presence of pieces of stainless steel inside the jars.
The recall announcement said that a few "jars may contain a small fragment of stainless steel from a piece of manufacturing equipment" and that the recall was made out of an abundance of caution.
Recalled products include Skippy Reduced Fat Creamy Peanut Butter Spread (40-ounce), Skippy Reduced Fat Creamy Peanut Butter Spread Club pack (2 40-ounce), Skippy Reduced Fat Super Chunk Peanut Butter Spread (16.3-ounce), and Skippy Peanut Butter Blended with Plant Protein (14-ounce).
These products were shipped to California, Connecticut, Delaware, Florida, Hawaii, Illinois, Indiana, Kansas, Massachusetts, Minnesota, Missouri, North Carolina, Nevada, New Hampshire, New Jersey, New York, Oklahoma, and Wisconsin.
So far no consumers have reported problems, incidents, or injuries related to the purchasing or consumption of the products, according to the company. Skippy has not announced any further recalls of any size, variety, or other packaging configurations.
For those who have purchased the recalled items, Skippy advises checking the product UPC code located on the bar code of the jars. The affected codes include 37600-10520, 37600-10667, 37600-10499, and 37600-88095.
However, not all products with those codes are contaminated. Check the product "BEST IF USED BY" date on the lid. All products affected have best-by dates in May: MAY 0423, MAY 0523, MAY 0623, MAY 0723, and MAY 1023.
Products affected can be returned to the store of purchase. Customers can also call Skippy Foods Consumer Engagement at 1-866-475-4779 from 9 a.m. to 5 p.m. ET, or go to www.peanutbutter.com for instructions and information.
Skippy says that a "manufacturing facility's internal detection systems identified the concern." The U.S. Food and Drug Administration (FDA) was notified of the recall.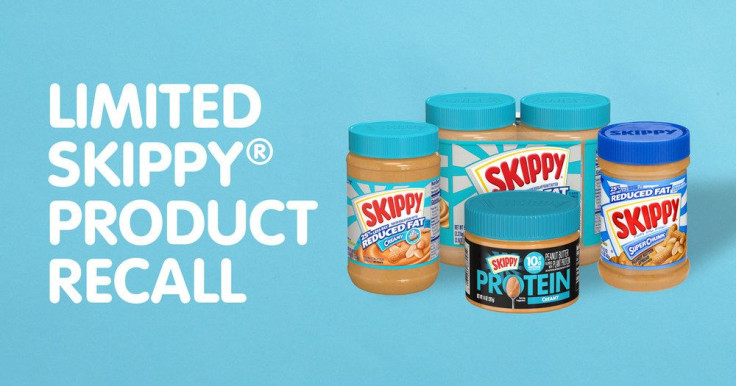 © Copyright IBTimes 2023. All rights reserved.