Records Raise Olympus Conflict of Interest Question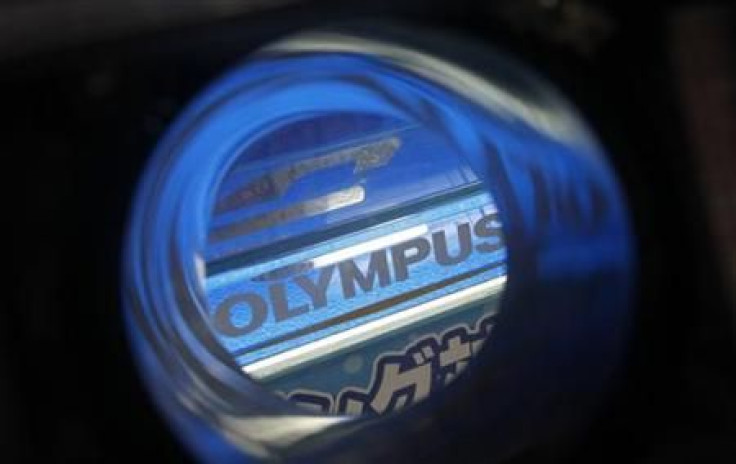 U.S. patent records point to a possible conflict of interest in an Olympus investment in a cookware company, raising more questions for investors demanding a full explanation from the Japanese company of acquisitions that made heavy losses.
A venture capitalist who managed an Olympus fund that invested $225 million in the new enterprise was part-owner of a cookware patent which he transferred to the target business, just as Olympus was pouring money into it, various documents appear to show.
The records do not reveal if he made any personal gain from the patent deal and Olympus declined to say if the venture capitalist and the patent holder are the same person, even though they have the same name.
Olympus has lost half its market value since its sacked CEO released internal documents showing the firm spent $773 million on the cookware company and two other businesses from 2006-2008 in deals that have largely been written off.
They also show Olympus paid the world's fattest advisory fee, $687 million for the $2.2 billion purchase of British medical-equipment maker Gyrus.
The maker of cameras and medical equipment is under pressure from investors to explain the purchases. The sacked CEO, Michael Woodford, has pressed authorities in Britain and Japan to investigate. The FBI is looking into the $687 million advisory fee, most of it paid to a now-defunct Cayman Islands firm.
Even though Olympus has insisted the acquisitions were strategic and involved no wrongdoing, the number of questions is growing.
Several brokerages have suspended their ratings on the company, citing uncertainty and the difficulty of carrying out accurate analysis in the absence of more information.
The leaked Olympus documents and U.S. patent records shine a light on two brothers, Nobumasa and Akinobu Yokoo, who were engaged in separate capacities by Olympus to scout out new businesses for the group.
Nobumasa, the younger brother, managed an Olympus venture capital fund through which the group began investing in the three businesses that were to soak up $773 million in capital, the leaked documents show.
One of them was Tokyo-based News Chef Inc, specialising in microwave cookware, a radical departure from Olympus's core medical and optical businesses and one that would cost about $186 million in writedowns, the documents show. The News Chef investment started in May 2006 and ended in April 2008.
Shortly after those investments began, records at the U.S. Patent and Trademark Office show a rice-cooking patent acquired two years earlier by a man called Nobumasa Yokoo and three others was assigned to a Tokyo-based firm called News Inc.
The records show that at that time News Inc shared the same eight-storey downtown Tokyo building as Olympus's News Chef Inc. The building no longer houses either firm.
Olympus reiterated on Thursday there was nothing improper or illegal about the way it handled deals arranged through the fund, which was set up in 2000 at the peak of the dot-com boom.
CONCERNS MOUNT
Olympus has been denying all of the various media reports, which makes it difficult to comment, but if a holder of a patent was an advisor on a related deal that could end up being a problem from a conflict of interest perspective, said Yuta Ishinoda, analyst at credit rating agency R&I, which this month put Olympus on watch for possible downgrade.
That said, we don't know if that is true or not, and that makes it difficult to comment. The desirable course of action for the company would be to disclose information that addresses allegations and is convincing to investors.
U.S. corporate governance expert Charles Elson also said the circumstances raised questions, especially if Olympus's fund manager personally had an interest in a target company.
That's why typically in U.S. companies transactions between officers and the company, if not prohibited, are severely limited. It depends. If he had no interest in this company then it really isn't an issue, said Elson, director of the University of Delaware's John L. Weinberg Center for Corporate Governance.
The patent records do not show if any payments were involved in the various transfers of the patent for a rice-cooking device for use in microwave ovens. Nobumasa and the other three had obtained the patent, filed in 2004 and granted in 2005, from the inventor.
The patent says it can produce rice in a microwave of a superior flavor with shiny, silver-like grains and a plump and tender core.
Investors and regulators are starting to question the various deals after they were publicized by Woodford. He says the acquisition of Gyrus in 2008 and the three smaller purchases have destroyed $1.3 billion of shareholder value in the company.
Teikoku Databank, a credit research firm, says News Chef Inc made a loss of 2.2 billion yen ($29 million) on sales of 600 million yen in the year to March 2011.
News Chef's offices are now located in a half-deserted building in Tokyo. It employs a few dozen people.
Reuters visited the Tokyo address given by the U.S. Patent Office as the home of Nobumasa Yokoo. The front gates of the two-storey home in an upmarket neighborhood bear the Yokoo family nameplate and is overlooked by a verandah fringed with flowers.
A woman who answered the doorbell declined to comment when Reuters called to inquire about Nobumasa Yokoo. She did not respond to further rings of the doorbell.
Nobumasa Yokoo was cited in a 2009 audit report commissioned by Olympus after questions were raised internally about the venture capital fund's investments in News Chef and other companies.
The fund was wound up in 2007, a copy of the audit report obtained by Reuters shows.
Nobumasa is listed in a Japanese corporate registry as president of Global Chef, although this listing was dated July 28. It is not clear when he ended his ties to Olympus. Global Chef is also in microwave cookware, its Web site shows.
The audit, which cleared Olympus management of any illegal activity or gross negligence, also looked at the question of a possible conflict of interest between Nobumasa Yokoo and his older brother, Akinobu, then a senior executive of Olympus.
OLDER BROTHER
Akinobu was an Olympus executive officer, not a board position, between 2005 and 2009, which overlapped the period when the Olympus venture fund made investments in News Chef.
He denies any conflict of interest.
I have never conducted business with my younger brother apart from one time, in an agricultural business using an old Olympus factory site, Akinobu Yokoo said when Reuters spoke with him at his three-storey house in Tokyo.
I was aware that my brother was pitching deals to Olympus, but I was working in China for them at the time and was not involved, he said as he left for work in his current role as head of JALUX, a unit of Japan Airlines.
Akinobu said he spent much of his time outside head office and generally did not see his brother much. He said he had not seen Nobumasa since the Olympus scandal broke.
The 2009 audit report found no conflict of interest on Akinobu Yokoo's part. We did not find any circumstances indicating that Akinobu tried to earn personal gain in connection with the fund, and Akinobu and the directors of Olympus stated that no such circumstances existed, it said.
($1=76.11 yen)
© Copyright Thomson Reuters 2023. All rights reserved.