'Red Notice' Bloopers: Ryan Reynolds Cusses Dwayne Johnson, Gal Gadot Cracks Up [Watch]
Netflix has dropped bloopers of the newly released movie "Red Notice" featuring Ryan Reynolds, Dwayne Johnson and Gal Gadot.
The three-minute, 27-second clip shows Gadot cracking up multiple times while filming scenes with Reynolds and Johnson. In one of the scenes, Johnson praises Reynolds but in return, the "Deadpool" star says, "Thank you dad, f--k you," which made Johnson burst into laughter.
The clip includes action scenes that went wrong and instances when the actors forget their dialogues. Netflix shared the bloopers on YouTube on Sunday.
Many people came to know about the blooper video after watching the movie on Netflix. About an hour into "Red Notice," a QR code appears on the screen inviting fans to the blooper reel.
"Obviously I'm not the only one who scanned QR code from movie," a user wrote, while another commented, "Pretty impressive the for the villain to use QR codes as invites to a secret part - pretty funny for the producers to put a blooper link embedded in the QR code."
Fans are all praises for Reynolds' sense of humor. "I feel like whenever Ryan Reynolds is involved in a movie, a minimum of 10 minutes of blooper reel is required," one person wrote.
"Honestly how does anyone get any work down when Ryan Reynolds is on set, he is literally one of the most funniest people," another fan said.
"Red Notice" revolves around an FBI officer, played by Johnson, who teams up with a con-man, played by Reynolds, to arrest the world's most wanted art thief, played by Gadot. The movie was released in theaters on Nov. 5 and on Netflix on Nov. 12.
Gadot will next feature in a crime mystery movie, "Death on the Nile," which is slated to release on Feb. 11, 2022. Johnson's highly anticipated movie, "Black Adam," is slated for release on July 29 next year.
Reynolds will next feature in a sci-fi movie, titled "The Adam Project." The movie will release next year.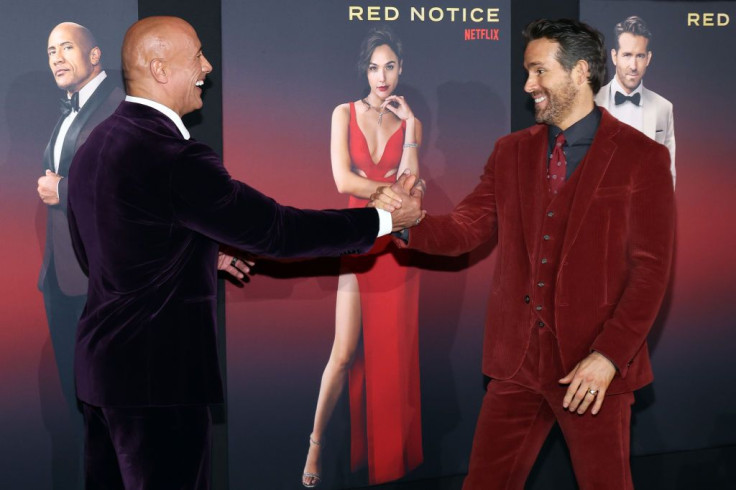 © Copyright IBTimes 2023. All rights reserved.
FOLLOW MORE IBT NEWS ON THE BELOW CHANNELS