Reddit Fappening Ban Triggers Outraged Response From Nude Photo Distributor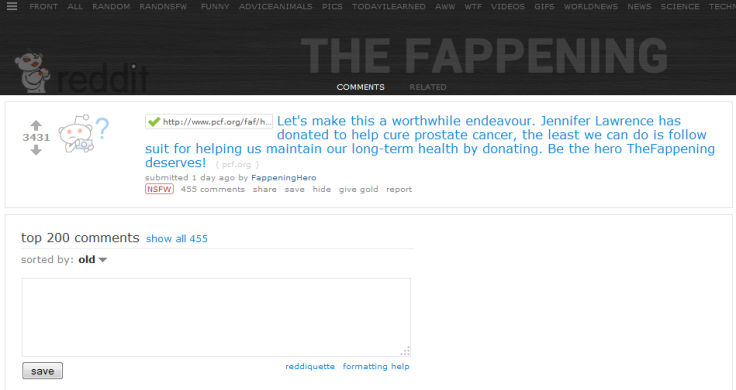 The creator of the "Fappening" section of Reddit who made it possible for others to share nude pictures of celebrities has come forward. Following Reddit's unusual decision to ban the r/Fappening forum Sunday, the moderator said he thinks it's his own privacy that's been violated, not the celebrities who were hacked.
Reddit user JohnsMCJohn said he has no regrets over his role in the "fappening" (a reference to "happening" and masturbation), the vast recent hack that led to the dispersal of stolen sensitive photos of about 100 A-list stars, including Jennifer Lawrence, Kirsten Dunst and Kate Upton. The pictures were first shared on the image-sharing site 4Chan, but when that thread was quickly deleted, countless users were still able to access the images thanks to a Reddit forum (officially known as r/Fappening) where users were free to share the stolen pictures. Reddit finally bowed to public pressure and deleted the forum late Saturday, but the story didn't end there.
"I am not happy," JohnsMCJohn wrote of Reddit's decision to remove the Fappening sub-Reddit that he created. "If they banned my sub on Sunday (or even Monday after we broke the servers), I would be fine with it. But they made a decision that seems based on what their lawyers say rather than what is best for the site."
What exactly is best for the site is up for debate. Reddit has been called on the carpet a number of times in the past -- most prominently for hosting a manhunt for the Boston Marathon bombers leading to the wrongful identification of a suspect and the harassment of his family, then again for hosting a network of white supremacist-controlled forums commenting on issues like the Mike Brown shooting.
Reddit (which did not immediately respond to comment for this article) posted an official blog post clarifying its stance on the issue just after the Fappening thread was removed.
"In accordance with our legal obligation, we expeditiously removed content hosted on our servers as soon as we received DCMA [Digital Millennium Copyright Act] requests from the lawful owners of that content, and in cases where the images were not hosted on our servers, we promptly directed them to the hosts of those services," Reddit explained.
"While current U.S. law does not prohibit linking to stolen materials, we deplore the theft of these images and we do not condone their widespread distribution. Nevertheless, Reddit's platform is structurally based on the ability for people to distribute, promote, and highlight textual materials as well as links to images and other media. We understand the harm that misusing or site does to the victims of this theft, and we deeply sympathize."
To be clear, JohnsMCJohn was not the hacker who stole the photos from Lawrence, Upton and other celebrities. But he was the first one to spot them on the difficult-to-access 4Chan /b/ forum and the first to promote them on Reddit, which led to the images' distribution on the Pirate Bay and other peer-to-peer sites. Without question, the vast majority of the people who saw the nude images were only able to do so because of JohnsMCJohn.
The company went on to explain that, when considering whether to remove certain content, it considers if the content in question might cause physical harm (suicides, instructions on how to hurt oneself, specific threats) and "actions which are morally objectionable or otherwise inappropriate."
"We uphold the ideal of free speech on Reddit as much as possible not because we are legally bound to, but because we believe that you – the user – has the right to choose between right and wrong, good and evil, and that it is your responsibility to do so," the post concluded. "When you know something is right, you should choose to do it. But as much as possible, we will not force you to do it."
The decision was immediately lauded by a slew of Reddit users and throughout social media for its respect of the celebrities' privacy. JohnsMCJohn, in an Ask-Me-Anything session addressing the takedown, maintained that his own rights as a Reddit user have been infringed, though, even as he admitted his Fappening group was "a series of nude photographs featuring various high-profile celebrities leaked on 4Chan in late August 2014. This subreddit is for those leaked photographs, as well as anything related to the leak."
© Copyright IBTimes 2023. All rights reserved.
FOLLOW MORE IBT NEWS ON THE BELOW CHANNELS