Reese Witherspoon Takes A Walk On The Wild Side In 'Wild,' Based On Cheryl Strayed Memoir: Review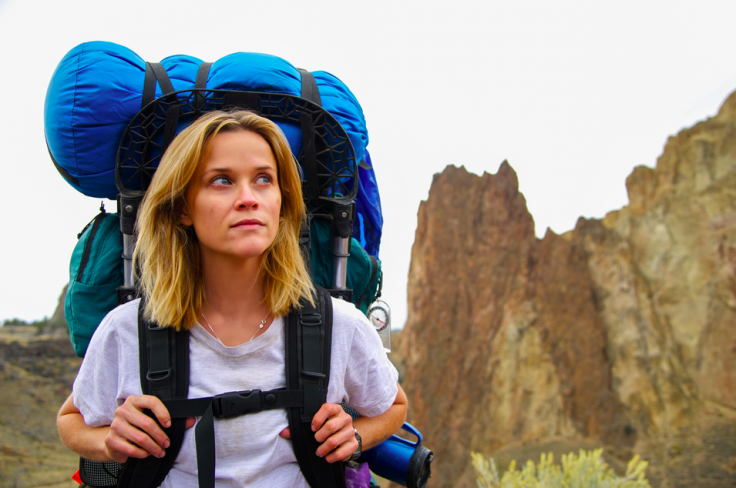 "Women don't just walk out of their lives," Cheryl Strayed (Reese Witherspoon) tells a reporter she encounters on her epic hike in the new movie "Wild," directed by Jean-Marc Vallée and adapted by Nick Hornby. "They have people to take care of, to feed." But Witherspoon dramatizes Strayed's defiance of this dictum in "Wild" (out in theaters Dec. 5), playing the formidable writer in a beautiful film that doesn't overplay its sentimental elements.
At age 26, author Cheryl Strayed had hit bottom. Her beloved mother had died of cancer, her husband divorced her due to her constant cheating and burgeoning heroin addiction, and her life was falling apart.
Her memoir "Wild: From Lost to Found on the Pacific Crest Trail" (Vintage, 2013) chronicled her unusual way of handling this crossroads: The novice backpacker decided to walk the 1,100 miles of the rugged Pacific Coast Trail (PCT), from California to Oregon, to try to reassemble her broken self. Strayed did the seemingly impossible in "Wild": She turned a 94-day hike into a hard-to-put-down book, combining the mundane details of packing a backpack with rapturous descriptions of the PCT and long jags of self-reflection.
Witherspoon "Strayed"
Without her gorgeous prose to guide the viewer, Vallée ("Dallas Buyers Club") creates a narrative that stitches together flashbacks, haunting clips of music, Witherspoon's voiceover of her character's thoughts and memories, and real-time experiences Strayed had on the trail. Those experiences include near-death from dehydration, encounters with a rattlesnake as well as some yahoos straight out of "Deliverance" and meetups with random people on the trail.
But it's her mother Bobbi (Laura Dern) who is the center of "Wild." The recurring character, who Strayed calls "the love of my life," haunts Strayed's memories and thoughts and serves as the conventional female counterpoint to Strayed's unconventional rebel. "I was always a mother or wife," Bobbi tells her daughter after her cancer diagnosis, "never in the driver's seat of my own life."
Not Your Mother's "Eat Pray Love"
It's her death that sends Strayed into a tailspin of self-destruction, and not since Witherspoon's performance as a juvenile delinquent in the campy "Freeway" nearly two decades ago has she played such a wayward woman -- hanging out in heroin dens shooting up with scrawny derelicts, having sex with customers in an alleyway outside the diner where she waitresses, and liberally using her favorite four-letter word, f---.
Elizabeth Gilbert's bourgie "Eat Pray Love," this is not.
"I'm going to walk myself into the woman I told my mother I would be," Strayed tells a friend at the beginning of "Wild" after she discovers she's pregnant, the last disaster to befall her self-destructive life. "I'm going to put myself in the way of beauty." In other words, she's going to live a life that is both a tribute to and a departure from the life of the woman who raised her.
Not Only For Women
Although the film has a female character on a conventionally male journey of self-discovery, Strayed told the New York Times in an interview with her and "Gone Girl" author Gillian Flynn that she thinks audiences need to move beyond the idea that certain stories were gendered.
"I was so mindful that I had not written a book for women," Strayed said. "I think the death of us would be if our films or our books were interpreted in this kind of 'You go, girl' thing. And I think the last frontier for women is to say we are fully human, which means that our stories are as relevant to men as they are to women."
It remains to be seen if "Wild" is a film men will go see in large numbers, but Strayed, Vallée and Witherspoon, who optioned both "Gone Girl" and "Wild," no doubt hope it sees the success the the movie adaptation of "Gone Girl" has had in theaters: The David Fincher-directed film has already made more than $300 million worldwide.
© Copyright IBTimes 2023. All rights reserved.
FOLLOW MORE IBT NEWS ON THE BELOW CHANNELS