'Reign' Season 1 Spoilers: New Photo Teases Trouble For Bash In Midseason Premiere, Episode 9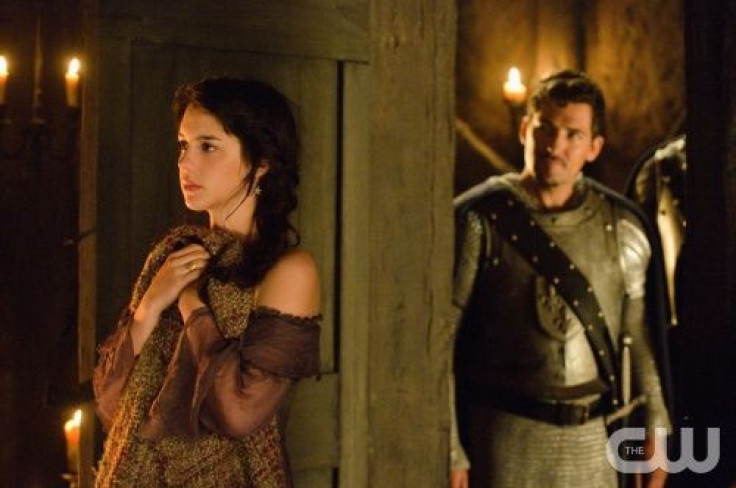 Things are not looking good for Bash in the "Reign" midseason premiere. The CW drama doesn't return with episode 9 until Thursday, Jan. 23, but a new photo teases some trouble ahead for everyone's favorite bastard child.
For those that don't remember, the midseason finale of "Reign" concluded with Mary discovering the prophecy about Francis' death and choosing to run away from the castle … with Bash. Unfortunately the pair was caught by Francis while they were making their great escape. And while the future Queen didn't actually run off with her fiancé's half-brother, that's not the way it looks to Francis and everyone else.
"It will appear that he's betrayed Francis and essentially, she's done the same," executive producer Brad Silberling revealed to TVLine.
As we previously reported, episode 9, "For King and Country," will start off with a small time jump and with Bash and Mary still on the run. However, their time outside the castle walls has a swiftly approaching expiration date. Now, thanks to a photo released on TV Guide, we know the reason behind Bash and Mary's return to the castle: betrayal.
The photo shows a worried-looking Bash looking Mary in the eyes. The reason why he's worried is likely due to the slew of guards he's surrounded by and the grip that one particularly angry-looking soldier has on him.
[Click HERE to see the photo of Bash and Mary.]
"Mary and I have taken refuge in a small inn, but we're betrayed by the innkeeper and [soldiers] come for us," Bash's Torrance Coombs explained to TV Guide. "There are severe consequences when we get back to the castle."
A leaked synopsis for the episode doesn't dive into the consequences that Mary and Bash will be facing, but it does reveal some of the struggles coming their way. For Mary, she'll have to face Queen Catherine, who is "even more determined to keep Mary and Francis apart." If facing Catherine wasn't scary enough, Mary will also have to deal with Francis. The future King of France is now aware of Nostradamus' prophecy regarding his death, but could care less that his marriage to Mary would seal his fate. His desire to wed Mary will change everything -- "in politics, tearing the bond of brothers apart, and hardening Catherine's resolve to destroy Mary at any cost."
"Reign" returns to the CW with more of season 1 on Thursday, Jan. 23, at 9 p.m. Are you worried about Bash? Let us know your thoughts in the comments section or send a tweet to @AmandaTVScoop.
© Copyright IBTimes 2023. All rights reserved.