The Remote Control Tourists Who Check Out The City Before You Book Your Trip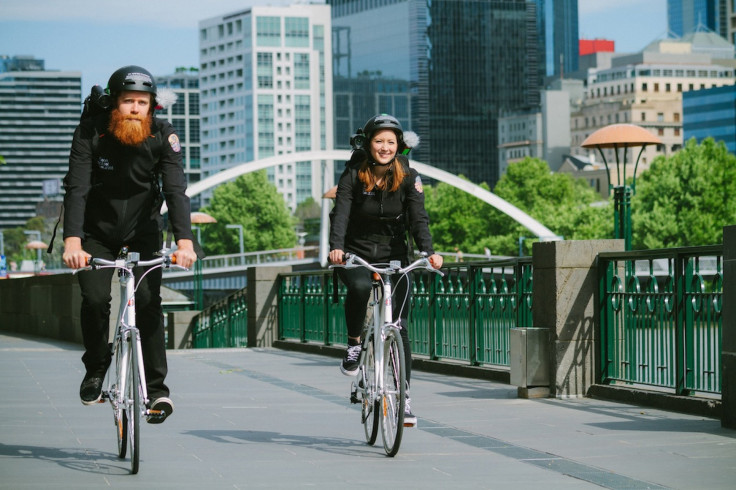 Ever wish you could truly see a city through someone else's eyes, explore its streets, and check out its sights and senses before you visited? That's the aim of Melbourne's new "Remote Control Tourists," who will roam Australia's capital of culture between Oct. 9 and Oct. 13 as slaves to your Facebook and Twitter demands (hashtag #MelbourneRCT). You tell the proxies what to eat, where to go and who to talk to, and follow their every move as it's live-streamed in real time on remotecontroltourist.com
Tourism Victoria enlisted four Melbourne-based actors to become its Remote Control Tourists, and fit them with helmet-mounted cameras, microphones, GPS and other mobile live-streaming technology. In theory, the quartet of bicycle-peddling, street-walking human machines will become the eyes, ears and virtual taste buds of armchair travelers the world over by providing a vicarious first-person perspective on what it's like to visit Melbourne, "the world's most livable city" and Australia's most popular destination by total visitor nights.
"To our knowledge, there has never before been any other tourism promotion where you have effectively been able to use social media to direct a person in a live environment and get live footage back immediately, particularly in such a way that you're in that moment being able to both ask questions and experience what the Remote Control Tourist is experiencing at the same time," said Tourism Victoria Chief Executive Leigh Harry.
Harry noted that each Remote Control Tourist has a team of about three to four people traveling alongside that is not featured in the live feed, including an assistant director and crowd control. The daily itinerary comes through a control center in South Melbourne where yet another team of directors and controllers analyze the Facebook and Twitter feeds and communicate back with the Remote Control Tourists.
"It's not as easy as it looks," Harry said. Though Tourism Victoria had a skeleton of what it wanted to accomplish each day, the flesh of the project comes in the spur of the moment as viewers from as far away as the U.S. and UK send in suggestions on social media. On Wednesday, the first day live, the Remote Control Tourists tried on clothes at Melbourne boutiques, caught a band playing at a popular pub and drank "lots and lots of coffee," Harry joked.
The "go before you go" participatory concept is part of the city's greater Play Melbourne campaign, which encourages visitors to "take a chance, roll the dice and see where it leads you." The Remote Control Tourists will highlight the more adventurous and creative aspects of the city, known for its culture, coffee and bohemian vibe, and will be confined to the busy streets and crowded laneways of the more tourist-friendly inner-city neighborhoods like Fitzroy, Prahran and Collingwood.
"This world-first campaign is all about giving people new reasons to come and experience the latest and greatest our city has to offer, by introducing it to them virtually first," explained Louise Asher, minister for tourism and major events. "We want to spark curiosity and encourage people to tap into their sense of discovery."
Though the live portion of the A$3.6 million campaign will end Sunday, Tourism Victoria plans to put the five days of footage back up on the Remote Control Tourist website later this year for a series of interactive competitions. Essentially, the tourism board will embed within the video footage a number of icons and related questions, and winners could secure a trip down to Melbourne, thanks to a newly minted $12 million partnership deal with Qantas.
The voyeuristic digital campaign is one of the first in the world to use wearables, a trend that will likely grow when Google Glass becomes more widely available in 2014. Niantic Labs, a startup within the Google umbrella, released a new Google Glass app in August called "Field Trip" that similarly acts as a virtual tour guide. The app -- which aims to make a tourist out of a local and a local out of a tourist -- ups the ante on traditional guidebooks by digitally annotating a destination in real time with the help of GPS information, offering "history, architecture, insider tips, and hidden gems from over 100 local publisher partners."
Wearables offer a way for tourism boards to lure young, digital-savvy "opinion leaders," who are more likely to share their experiences on social media (and thus, provide a feedback loop of free marketing). The Remote Control Tourist campaign not only ticks off boxes for new technology and social media integration, two hot topics of digital tourism marketing, but also capitalizes on a growing desire for authentic local experiences.
© Copyright IBTimes 2023. All rights reserved.