Republican Candidates, Obama, Former Presidents React To Nancy Reagan Death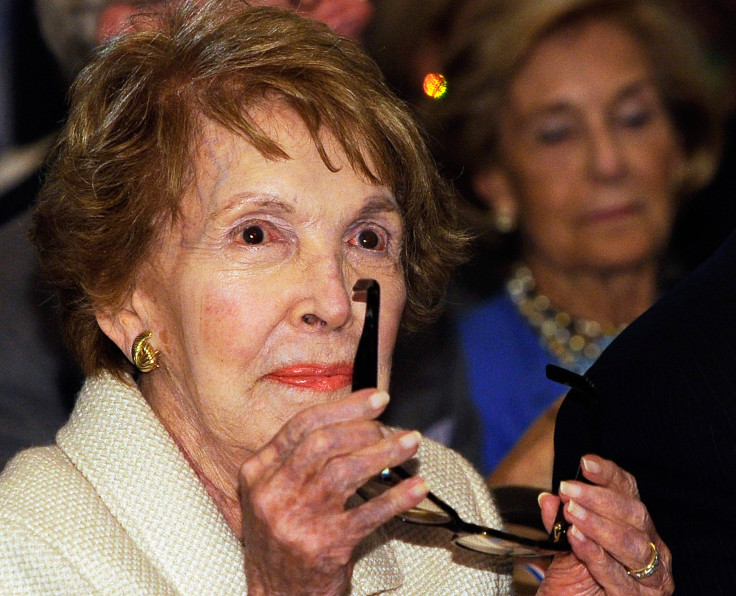 The Republican presidential candidates were quick to respond with tributes to former first lady Nancy Reagan, the widow of 40th U.S. President Ronald Reagan, following news of her death.
The former first lady died Sunday at age 94. Known for her fierce loyalty to her husband and "Just Say No" anti-drug campaign while in the White House, Nancy Reagan succumbed to congestive heart failure in her Bel Air, California, home, a spokesman for the family said.
All four remaining GOP candidates, businessman Donald Trump, Texas Sen. Ted Cruz, Florida Sen. Marco Rubio and Ohio Gov. John Kasich, immediately responded with messages of sympathy on Twitter and in statements to the press. The candidates pointed to Reagan's grace and passion as first lady.
Democratic presidential candidate Bernie Sanders also issued a statement of support on Twitter.
The candidates were joined by President Obama and former Presidents George W. Bush, Bill Clinton and Jimmy Carter.
"Nancy Reagan once wrote that nothing could prepare you for living in the White House. She was right, of course. But we had a head start, because we were fortunate to benefit from her proud example, and her warm and generous advice," said President Obama in a statement to the press. "Our former first lady redefined the role in her time here. Later, in her long goodbye with President Reagan, she became a voice on behalf of millions of families going through the depleting, aching reality of Alzheimer's, and took on a new role, as advocate, on behalf of treatments that hold the potential and the promise to improve and save lives."
"Laura [Bush] and I are saddened by the loss of former first lady Nancy Reagan," former President George W. Bush said in a statement. "Mrs. Reagan was fiercely loyal to her beloved husband, and that devotion was only matched by her devotion to the country."
"Hillary [Clinton] and I are deeply saddened to learn of Nancy Reagan's passing," former President Bill Clinton added in a joint statement with his wife, current Democratic Presidential candidate Hillary Clinton. "Nancy was an extraordinary woman: a gracious first lady, proud mother and devoted wife to President Reagan — her Ronnie."
Nacy Reagan was also honored by fellow former first lady Barabara Bush, who released her own statement to the press.
Ronald Reagan's adopted son, Michael Reagan, released a statement on Twitter paying tribute to his beloved stepparents.
Dozens of other notable Republican and government leaders expressed their sentiments as well, including 2012 Republican nominee Mitt Romney and former California Gov. Arnold Schwarzenegger.
The former first lady's husband, President Ronald Reagan, died in 2004 from Alzheimer's disease. She is survived by by her two children, Patti Davis and Ronald Reagan Jr., as well as stepson Michael Reagan.
© Copyright IBTimes 2023. All rights reserved.