Republican Congressman Slammed For Calling Capitol Riots 'Normal Tourist Visit'
Republican efforts to downplay the Capitol riots on Jan. 6 have grown bolder, with Rep. Andrew Clyde, R-Ga., suggested Wednesday that the presence of less violent protestors meant the label "insurrection" was inappropriate.
Clyde's comments were made at a congressional hearing that interviewed Trump administration officials about the riots.
"As one of the members who stayed in the Capitol and on the House floor, who, with other Republican colleagues, helped barricade the door until almost 3 p.m. that day from the mob who tried to enter, I can tell you the House floor was never breached and it was not an insurrection," Clyde said.
"There was an undisciplined mob. There were some rioters, and some who committed acts of vandalism, but let me be clear: There was no insurrection and to call it an insurrection is, in my opinion, a bold-faced lie," he continued.
"Watching the TV footage of those who entered the Capitol and walked through statuary hall showed people in an orderly fashion staying between the stanchions and roped and taking video and pictures," he said.
"If you didn't know the TV footage was a video from Jan. 6, you would actually think it was a normal tourist visit."
Clyde also noted that no firearms were confiscated from those who entered the building.
The riots involved extensive property damage, planning by extremist militia groups, disruption of the certification of the presidential election, and four unmentioned fatalities beyond the death of Ashley Babbitt, who was shot while attempting to breach a barricade adjacent to the House floor.
During the unrest, rioters were heard chanting "Hang Mike Pence!" and House impeachment manager Rep. Stacey Plaskett of the Virgin Islands confirmed that, "You can hear the mob calling for the death of the vice president of the United States."
Clyde's comments sparked immediate outrage. Video of his comments — excluding his acknowledgment of some violence and vandalism — was quickly juxtaposed with footage of the riots and shared on social media.
Clyde was confronted by reporters after his comments. He dismissed the questioners as biased and declined to speak further on the issue.
Clyde, 57, was elected to his first term in 2020, filling the seat of ardent Donald Trump defender Doug Collins, who declined to seek reelection.
The comments seem especially untimely given the Thursday release of bodycam footage of the riots from officer Michael Fanone. Obtained by CNN, Fanone can be heard pleading with the crowd, saying, "I got kids" before being ultimately knocked unconscious.
Republicans continue to align themselves with Trump, several months after his election defeat. On Wednesday, the party ousted Rep. Liz Cheney of Wyoming from a leadership role for challenging Trump's false election claims.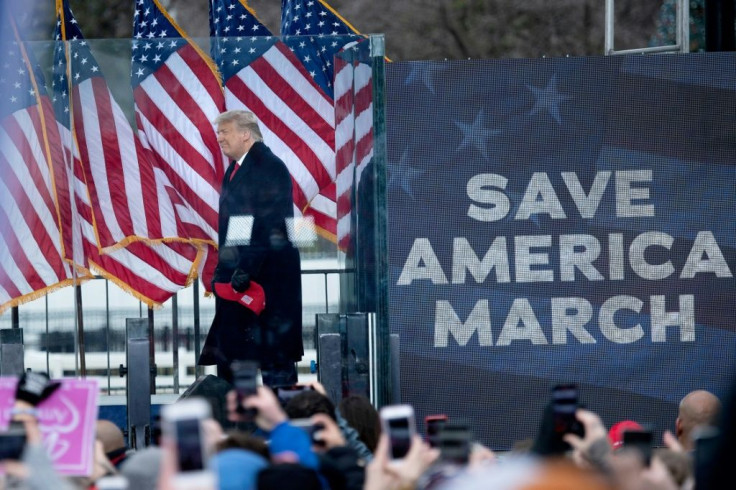 © Copyright IBTimes 2023. All rights reserved.