Republican Debate Update: Rick Santorum Says 'All Jihadists Are Muslims' As Candidates Argue About Islam Threat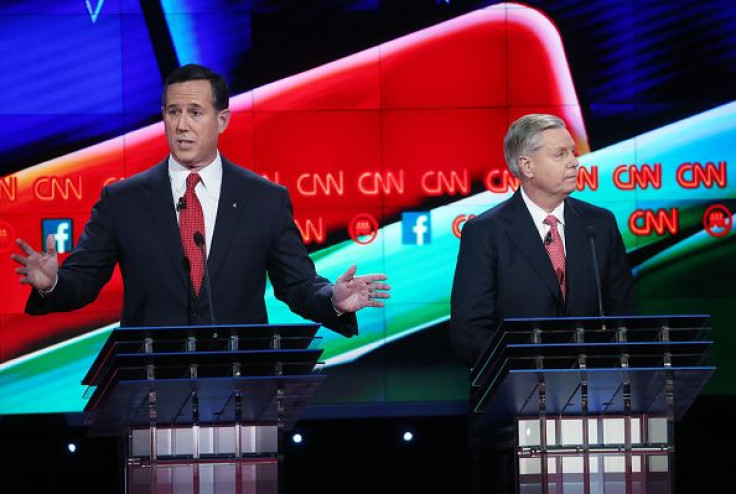 Sen. Lindsey Graham, R-SC, and former Sen. Rick Santorum, R-PA, traded blows during Tuesday's undercard debate on CNN over how best to prevent terrorists from entering the United States. The two candidates were part of the GOP hopefuls polling toward the back of the Republican presidential pack.
Both Republican candidates were critical of GOP front-runner Donald Trump's proposal to ban all Muslims from entering the country, though they differed on how best to prevent terror attacks on U.S. soil. "He may think this makes us safe but it doesn't," said Graham about Trump's proposed Muslim ban. "This is a religious war between radical Islam and the rest of the world," he said, adding, "Donald Trump has done the one single thing you cannot do: declare war on Islam itself."
While Santorum criticized the ban itself, he said that Muslims were far more likely to be terrorists than anyone else. "The fact is, not all Muslims are jihadists. But the reality is, all jihadists are Muslims," he said.
Graham in particular has been a vocal and visible presence in the weeks following recent terror attacks in Paris and San Bernardino, which left a combined 144 people dead and were carried out by Islamic State supporters. Graham has advocated for an official declaration of war and the deployment of soldiers to Iraq and Syria.
"I'm trying to protect America from another 9/11, and without American boots on the ground in Syria and Iraq, we're gonna get hit here at home," Graham told CNN several days after the Paris attacks. "And if you don't understand that, you're not ready to be commander-in-chief in my view," he said.
Santorum has also looked to position himself as a knowledgeable expert on counter terrorism. A recent advertisement released by his super PAC called the current geopolitical situation World War III. "It's not about atomic bombs leveling entire cities; it's about small bands of radicals shooting up concerts and Christmas parties," the ad warns.
© Copyright IBTimes 2023. All rights reserved.