Why Is George Pataki Still Running For President? GOP Debate Shows Former New York Governor Lacks Spark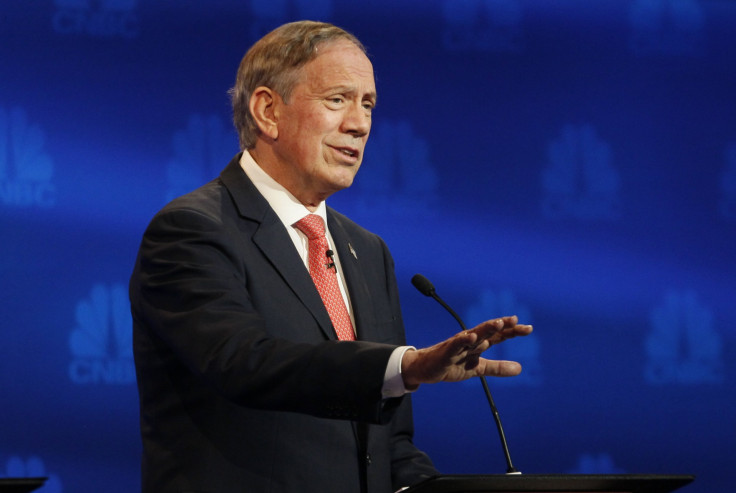 Former New York Gov. George Pataki praised blue-collar workers and railed against Wall Street Wednesday during the third Republican presidential debate, vowing to take a harsh stance against corporations in a populist stance that tends to go over well with certain voters. But it's likely no one was paying attention.
Pataki has battled to stand out in a crowded field of Republican candidates as a moderate who doesn't necessarily represent the values of far-right GOP primary voters. He also has fared poorly with campaign donors. Last quarter, Pataki pulled in about $150,000 and only had $13,000 cash on hand at the end of September.
During the debate Wednesday, Pataki said despite his relationship with Wall Street as governor of New York, he wouldn't be a pushover if he made it to the White House. "They've gone too far. We've seen Wall Street really blossom and do really well while the rest of the country is struggling," he said.
Pataki knows about struggle. He travels with only a few aides and has met with mostly small groups of voters. "Everybody goes, 'How long, Pataki, can you stay in this?' We've been running on a bare-bones campaign from the beginning," he said last week.
Pataki was part of the CNBC early "undercard" debate Wednesday night featuring the four bottom-tier candidates. Rick Santorum, Bobby Jindal and Lindsey Graham also participated. They each have less than 1 percent support in the polls.
The top 10 candidates were invited to the prime-time debate stage at the Coors Event Center at the University of Colorado Boulder. They included Donald Trump, Ben Carson, Jeb Bush, Marco Rubio and Carly Fiorina.
Pataki is one of the most moderate Republicans running for the White House. He has said he could make the GOP competitive in a general election where voters tend to embrace more mainstream policies. He remains popular in New York, a Democratic-voting state where he was a three-term governor. He last held office in 2006.
"One thing that is certain is that things will change dramatically between now and February," Pataki, referring to the date of the first GOP primary, said earlier this month while campaigning in the important early voting state New Hampshire. "But I'm not going to pretend I can come in 12th in New Hampshire and continue. We have got to break into the pack."
© Copyright IBTimes 2023. All rights reserved.
FOLLOW MORE IBT NEWS ON THE BELOW CHANNELS