Republican Presidential Debate 2016: Start Time, TV Channel, Radio Info For GOP, CBS Event In South Carolina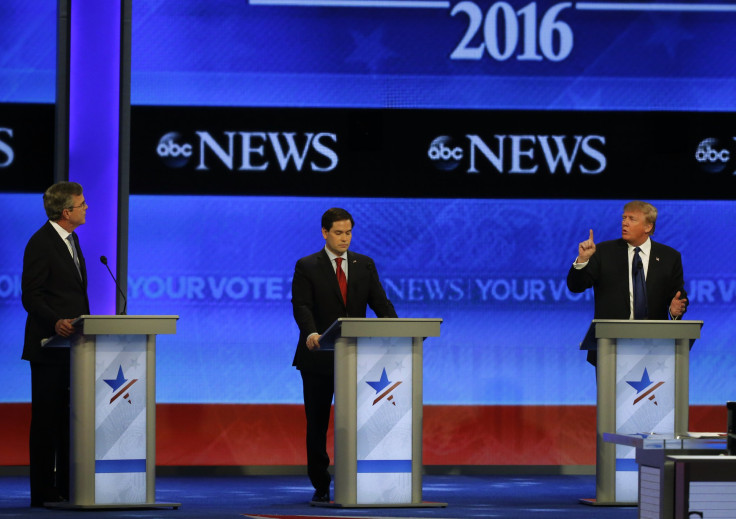 Off the heels of the New Hampshire primary, Republican presidential candidates are set to assemble once again Saturday to spar at the GOP presidential debate at the Peace Center in Greenville, South Carolina. The debate, hosted by CBS News, will likely see its thinnest lineup yet with Hewlett-Packard CEO Carly Fiorina and New Jersey Gov. Chris Christie out of the running.
Based on CBS' criteria, Texas Sen. Ted Cruz, real estate mogul Donald Trump and Florida Sen. Marco Rubio are are all slated to be on the stage for finishing in the top three in the Iowa caucus. Ohio Gov. John Kasich and former Florida Gov. Jeb Bush also earned spots at the debate after making the top five in the New Hampshire Republican primaries.
RCP Current Poll Average for South Carolina Republican Primary | InsideGov
Candidates were also invited if they placed among the top five candidates in the average of national and South Carolina GOP polls in the past four weeks. They needed to receive a minimum of 3 percent in the Iowa and New Hampshire contests or garner 3 percent in the South Carolina or national polls.
RCP Poll Average for Republican Candidates vs. Clinton | InsideGov
CBS News tapped "Face the Nation" anchor John Dickerson as the principal moderator. He will be joined by panelists Major Garrett, a CBS News chief White House correspondent, and Kimberley Strassel, a Wall Street Journal journalist on the editorial board. Dickerson moderated CBS News' Democratic debate in November at the University of Colorado-Boulder.
"The goal of the moderator is to illuminate the views of the candidates on the issues that matter the most to voters, and you don't need to be on the side of the party to do that," Dickerson told the Des Moines Register before the debate.
Start Time: 9 p.m. ET
TV Channel: CBS News
Online: You can watch a live stream here.
Radio: CBS Radio News will air the debate.
© Copyright IBTimes 2023. All rights reserved.