Republicans Who Defend Muslims: Jenna Bush Hager Quotes Father's 9/11 Speech, Slams Trump Travel Ban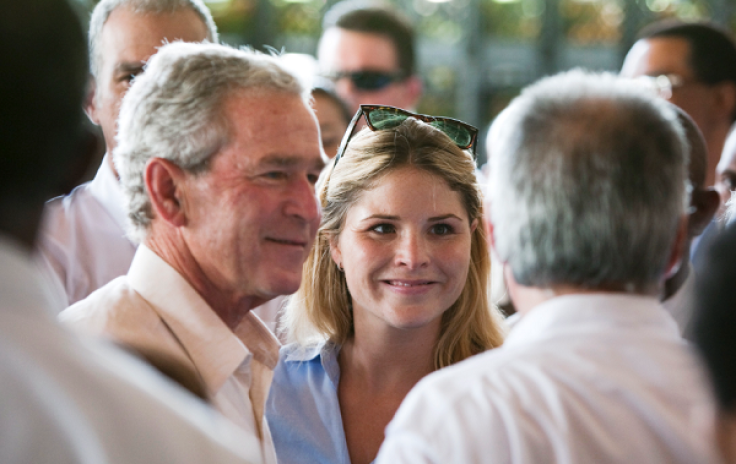 Dozens of Republicans voiced their disdain against President Donald Trump's travel ban, which prohibited people from seven Muslim-majority countries from entering the U.S. for 90 days and suspended the admission of refugees into the country for 120 days. One of the Republicans who spoke out was former President George W. Bush's daughter, Jenna Bush Hager.
Hager took to Twitter Tuesday to share her sentiments over the travel ban, which was issued Friday, and said, "This is not the America I know," while quoting an excerpt from her father's famous 9/11 speech that encouraged citizens to treat fellow Muslim Americans with respect despite the horrific attack carried out by Muslim terrorists on Sept. 11, 2001.
"Just a reminder this am to teach acceptance and love to our kids for all races, all religions," she continued.
Although her father, a Republican and 43rd president, would not comment on Trump's travel ban, according to a Yahoo! News report, several other party members have shared their thoughts on Trump's ban including prominent Republican Senators John McCain and Lindsey Graham. In a joint statement Sunday, the senators said that they "fear this executive order will become a self-inflicted wound in the fight against terrorism."
While speaking with CBS's Face the Nation Sunday, McCain said Trump's latest order could potentially "give ISIS some more propaganda."
As outraged sparked across the country and at several airports worldwide, other Republican Party members started to weigh in.
Rep. Charlie Dent, R-Pa., said during an interview Monday he understood Trump's intention, but added, "Unfortunately the order appears to have been rushed through without full consideration. You know, there are many, many nuances of immigration policy that can be life or death for many innocent, vulnerable people around the world."
Sen. Jeff Flake, R-Ariz., blasted the ban in a Medium post Saturday, writing, "It's unacceptable when even legal permanent residents are being detained or turned away at airports and ports of entry."
"Enhancing long-term national security requires that we have a clear-eyed view of radical Islamic terrorism without ascribing radical Islamic terrorist views to all Muslims," Flake added.
Along with McCain, Graham, Dent and Flake, 12 other party members have also denounced Trump's travel ban in some capacity, including: Sen. Ben Sasse, R-Neb.; Sen. Cory Gardner, R-Colo.; Sen. Dean Heller, R-Nev.; Sen. Jerry Moran, R-Kan.; Sen. Susan Collins, R-Maine; Rep. Barbara Comstock, R-Va.; Rep. Justin Amash, R-Mich.; Rep. Brian Fitzpatrick, R-Pa.; Rep. Leonard Lance, R-N.J.; Rep. Ileana Ros-Lehtinen, R-Fla.; Rep. Will Hurd, R-Tex. and Rep. Elise Stefanik, R-N.Y.
© Copyright IBTimes 2023. All rights reserved.
FOLLOW MORE IBT NEWS ON THE BELOW CHANNELS