Rescue Dog Hailed As Hero By Pennsylvania Owners For Saving Daughters From Possible Kidnapping
A family's rescue dog is being hailed as a hero for helping prevent the possible kidnapping of three children.
The incident occurred in Franklin County, Pennsylvania, as part of a string of break-ins. These were committed by a man who confessed to authorities about them, saying he was looking for a child to kidnap.
The dog in question was a 4-year-old hound mix named Edgar that the Lambert family had rescued and taken in.
Thom Lambert spoke about the situation, saying that Edgar had started acting strange seemingly out of the blue.
"It was like a growl howl with that mixed at the same time. It was obvious he was really upset and as soon as I got him to quit barking I heard sounds of someone going down the stairs," Lambert said.
Edgar's behavior prompted Lambert to call 911, though nothing was found.
This all occurred while Lambert's three young daughters were asleep.
Edgar's senses were proven correct after Thomas Dewald was arrested a few days later for kidnapping a 4-year-old girl down the street from the Lamberts. He reportedly confessed to police that he had taken the girl and locked her in a chest underneath his bed.
Dewald also confessed to scoping out other homes, one of which was the Lamberts' home. According to police, he had entered the Lambert house through a kitchen window and started walking upstairs before Edgar's barking scared him off.
"Without Edgar genuinely who knows where our daughters would be right now. Our family was one hundred percent rescued by our dog that we rescued," Lambert said.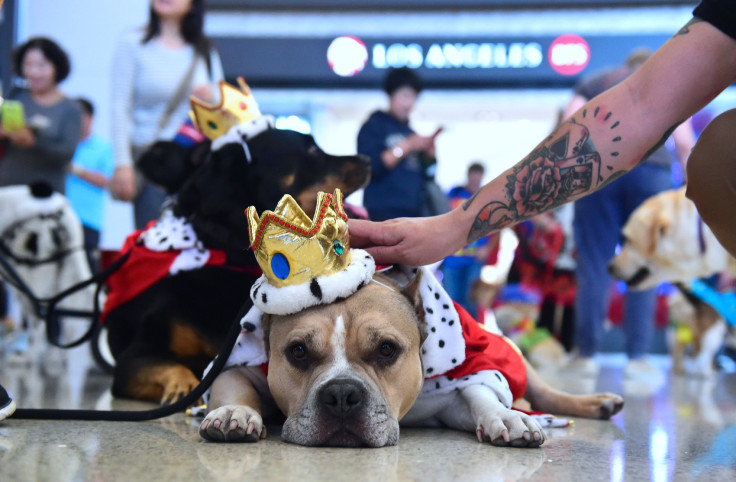 FOLLOW MORE IBT NEWS ON THE BELOW CHANNELS