Rex Tillerson Chosen By Donald Trump For Secretary Of State: Reports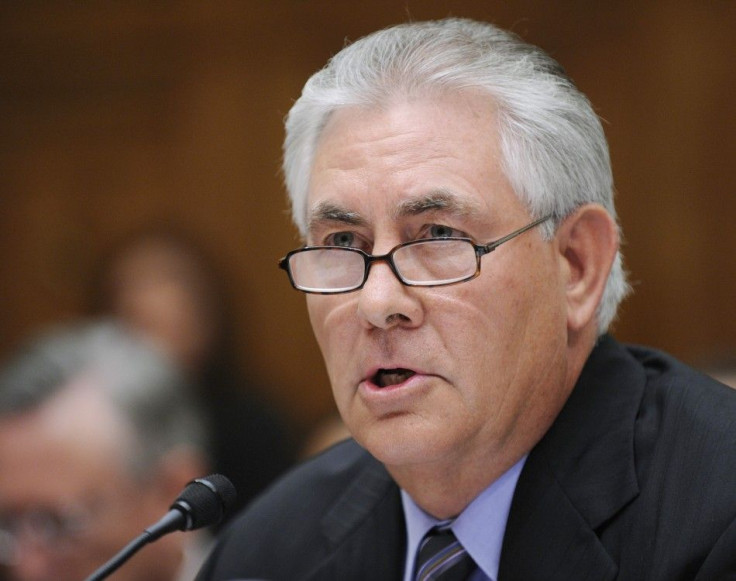 UPDATE: 06:21 a.m. EST — Exxon Mobil Corp. CEO Rex Tillerson is President-elect Donald Trump's choice for U.S. secretary of state.
Tillerson has never served any elected office and, if confirmed, will be the first oil industry executive to take on this role and head the Department of State.
A source familiar with the matter told Bloomberg that Tillerson had accepted Trump's offer.
Original story:
President-elect Donald Trump late Monday said he would announce his choice for secretary of state Tuesday.
The appointment is seen as the key to defining the direction the Trump administration will take.
Recent speculation has centered on ExxonMobil CEO Rex Tillerson, who has extensive business ties to Russia and a personal relationship with Russian President Vladimir Putin — something Trump and his spokesmen see as an asset.
Tillerson never has served in any elective office like many of the other people Trump has named so far to administration posts.
"Rex Tillerson is a very Trumpian-inspired pick because it's somebody who, like Donald Trump, has a career outside of politics and he's somebody who is accustomed to making big deals and making — translating that into big impact," Trump spokeswoman Kellyanne Conway told MSNBC Monday.
The prospect of Tillerson has raised flags among the senators who will have to confirm him.
Sen. John McCain, R-Ariz., said on CBS's "Face the Nation" Sunday he thinks Tillerson's relationship with Putin would color his approach to the threat Russia poses.
"It is a matter of concern to me that he has such a close personal relationship with Vladimir Putin," McCain said.
Sen. Marco Rubio, R-Fla., tweeted his doubts.
Sen. Bob Menendez, D-N.J., called the possible nomination of Tillerson "alarming and absurd."
"With Rex Tillerson as our Secretary of State, the Trump administration would be guaranteeing Russia has a willing accomplice in the President's Cabinet guiding our nation's foreign policy," Menendez wrote on his Facebook page.
"The role of secretary of state should not be bestowed upon someone whose only notable experience with foreign governments involve multimillion-dollar deals with Russia and whose experience with the federal government seems to be limited to campaigns against the effects of climate change."
Tillerson, 64, spearheaded ExxonMobil's partnership with Russian oil giant Rosneft. In 2014,
Putin gave him the Order of Friendship, one of the highest honors Russia gives foreign citizens.
Trump interviewed a number of people for the cabinet post since the election. Former New York Mayor Rudy Giuliani took his name out of the running last week. Also under consideration were former Massachusetts Gov. Mitt Romney and Sen. John Corker, R-Tenn.
Former U.N. Ambassador John Bolton was said to be a leading contender for deputy secretary of state. Sen. Rand Paul, R-Ky., said on ABC's "This Week" Sunday he would oppose that nomination.
© Copyright IBTimes 2022. All rights reserved.
FOLLOW MORE IBT NEWS ON THE BELOW CHANNELS