Rhett And Link Net Worth: Super Rich YouTube Stars Earned $30M In 2021
KEY POINTS
Rhett and Link ranked fourth on Forbes' list of the top 10 highest-earning YouTubers of 2021
They previously hosted an R-rated live stream, which was viewed by 70,000 fans who paid as much as $50 a ticket
They plan to invest $5 million in other YouTubers
Rhett James McLaughlin and Charles Lincoln "Link" Neal III, better known as Rhett and Link to their fans, were two of the highest-earning YouTube content creators last year.
Rhett, 44, and Link, 43, quit their jobs as engineers soon after graduating from college to focus on their YouTube careers. They have since become known for their viral videos, comedy songs and their daily morning chat show, "Good Mythical Morning."
The duo ranked fourth on Forbes' list of the top 10 highest-earning YouTubers of 2021. They earned a combined $30 million last year.
Some of their recent achievements include the success of the cooking series "Mythical Kitchen," which has a separate host, Josh Scherer. The two-year-old show already has 1.8 million subscribers on YouTube.
In October last year, the pair also hosted a two-hour, R-rated live stream, which was viewed by 70,000 fans who paid as much as $50 a ticket, according to Forbes.
Rhett and Link also launched the Mythical Accelerator fund. Through the initiative, they plan to invest $5 million in other YouTubers. Last year, they contributed an undisclosed amount to up-and-comer Jarvis Johnson.
The pair's annual earnings grew significantly compared to the previous two years. In 2019, Rhett and Link made $18 million from various endeavors, which was enough to make them the fourth-highest-paid YouTubers that year. In 2020, they raked in $20 million.
Currently, Rhett is believed to have a net worth of $20 million. Link's net worth is also estimated to be around $20 million, according to Celebrity Net Worth.
It was in 2006 when the two formed internet entertainment studio Mythical Entertainment. They joined YouTube two years later.
One of their first videos that became viral was that of Rhett's 3-year-old son Locke crying over the loss of the NC State Wolfpack and their rivalry with the North Carolina Tar Heels.
In 2012, the duo started "Good Mythical Morning." They won a Shorty Award in 2016 for best web series for the talk show. As of this writing, the channel has about 17.4 million subscribers.
Over the years, Mythical Entertainment continued to grow. In 2019, the studio bought sketch comedy YouTube channel Smosh and officially became its new parent company.
With that purchase, Mythical Entertainment had almost 2 billion views on the platform in 2019, bringing in some $11 million in estimated revenue from YouTube's ad-share program.
According to the company's website, to date, Mythical Entertainment's owned and operated YouTube channels have amassed 75 million subscribers and 25 billion lifetime views. It has over 45 million combined followers on Instagram, Facebook, Twitch, Snap, TikTok and Twitter.
Other YouTube stars who made Forbes' top earners list for 2021 include MrBeast, Jake Paul, 10-year-old toy reviewer Ryan Kaji and "Minecraft" player Nathan Graham, known as Unspeakable.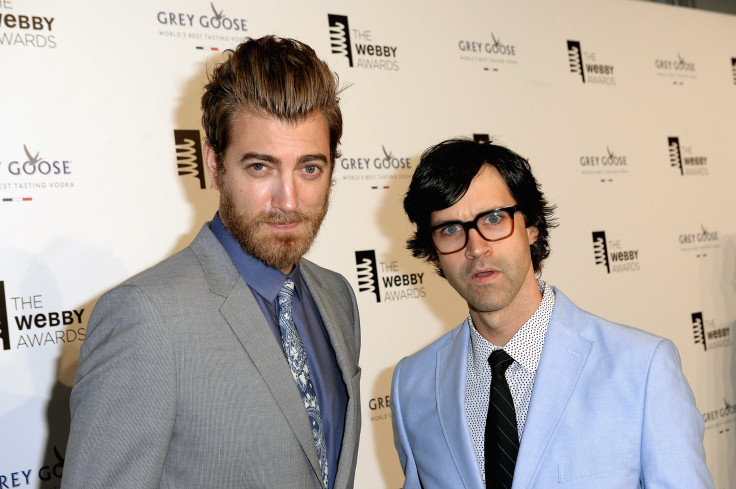 © Copyright IBTimes 2023. All rights reserved.
FOLLOW MORE IBT NEWS ON THE BELOW CHANNELS