Ric Flair Update: WWE Legend Not 'Out Of The Woods' After Surgery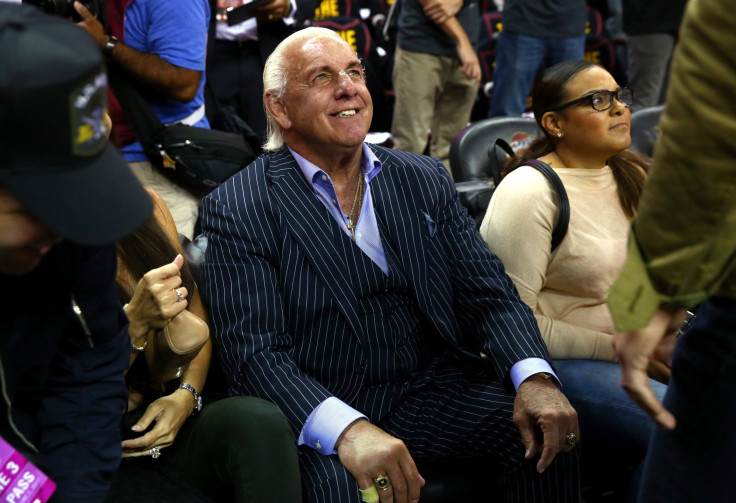 WWE legend Ric Flair underwent successful surgery Monday after being admitted to the hospital over the weekend. The latest reports indicate that the former professional wrestler is resting, though he still has a long road ahead.
Flair was taken to the hospital by his family Saturday and admitted to an ICU for a heart-related issue, according to Pro Wrestling Sheet. Flair's representatives have not detailed what kind of procedure he was forced to undergo, though TMZ reported Monday that the 16-time world champion was placed into a medically induced coma before the surgery.
It became clear that Flair's medical situation was serious when one of his reps asked for prayers and positive energy to be sent his way because of "some tough medical issues." Ric's daughter, Charlotte Flair, gave the most recent update on her father's condition, thanking everyone for their support and calling her dad a "fighter."
WWE provided an update on Flair's health during the first hour of "Monday Night Raw."
"As many of you are aware, WWE Hall of Famer The Nature Boy Ric Flair has battled a number of health issues over the past couple of days," lead commentator Michael Cole told the audience. "But we can report tonight that Ric underwent successful surgery earlier today. However, he is not out of the woods yet. Our thoughts and prayers are going out to Ric and his family in Atlanta tonight."
Announcers Corey Graves and Booker T also sent Flair well wishes.
"As a lifelong fan, Ric Flair has always put a smile on my face, and I've gotta hold out hope that the dirtiest player in the game still has a few more tricks left up his sleeve," Graves said.
"As a longtime fan, let me say this," Booker T said. "In 2000, I won the heavyweight championship and Ric Flair said, 'Booker, I'm passing the torch to you.' Well, I can't wait to see you, Ric, so I can pass it back."
Throughout Monday, countless former wrestlers and current WWE superstars sent their thoughts to Flair on social media. The 68-year-old is widely recognized as the greatest professional wrestler of all time.
Many celebrities outside of the wrestling world tweeted their thoughts and prayers to Flair's family. The WWE Hall of Famer had a career that transcended sports entertainment, making him a pop culture icon. He wrestled over the course of five decades, winning titles in the country's biggest promotions.
Flair's larger-than-life personality is what made him so popular for so long. He's known for delivering some of the most iconic promos in the history of the business, and his catchphrases still permeate the business in 2017.
Even though it's been a few years since Flair last wrestled, he's still been involved with WWE, taking part in storylines with Charlotte. His daughter is a current member of the "SmackDown Live" roster and a four-time Raw Women's Champion.
Charlotte does not currently have a match at SummerSlam, which is set to take place Sunday night at Barclays Center in Brooklyn.
© Copyright IBTimes 2023. All rights reserved.