Richard Sherman Feuds With Dan Carpenter's Wife Kaela After She Suggests Seattle Seahawks Player Should Be Castrated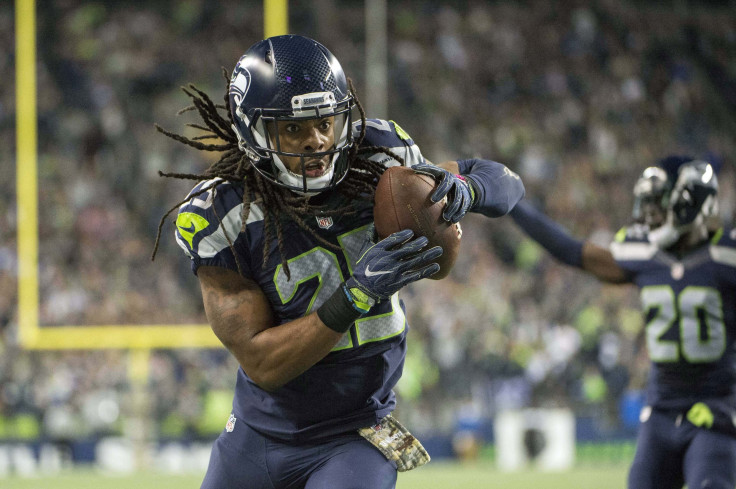 Kaela Carpenter started a mini Twitter feud with Seattle Seahawks cornerback Richard Sherman after she suggested he should be castrated for hitting her husband, Buffalo Bills kicker Dan Carpenter, during Monday Night Football at CenturyLink Field. The Seahawks defeated the Bills 31-25, but Kaela wasn't going to remain silent about the loss.
She posted an image of an instrument used to castrate animals. "I know what we do on the farm when a male can't control his own rage," she wrote Monday. In the hashtags Kaela added: "Lucky I'm Not There," "Sherman" and "Act Like An Animal Get Treated Like 1."
Sherman, 28, responded to her post with laughing emoji. "Thank you! Have a great day," he tweeted Tuesday. Sherman's response was liked hundreds of times by netizens.
Sherman hit Carpenter, 30, just before Half Time when he jumped offsides while he tried to block the kicker's field-goal attempt. Sherman was not fouled for roughing the kicker, but the Bills were penalized for delay of game. Carpenter ultimately shanked the ball at a 54-yard attempt.
Sherman denied that he tried to hurt Carpenter. He went to Instagram and Twitter Tuesday to show a still of him going for the ball.
The NFL, however, said Sherman should have been fouled for unnecessary roughness after the game was over. "At the end of the half in #BUFvsSEA its unnecessary roughness for hitting the kicker. Foul means he can stay in the game," Dean Blandino, senior vice president of NFL officiating, tweeted Monday.
Still, the defensive player wasn't sorry and told ESPN Carpenter shouldn't have kicked the ball. "I went to block the kick," Sherman said Monday. "I'm not going to let him make a kick. So when they called offsides, I'm not going to let him have a free play. That's not how I play. They didn't blow the whistle so I played until the whistle was blown."
"I went straight for the ball. I didn't go for the kicker," Sherman continued. "He should not have kicked it. Maybe he wanted to. You know? I went for the ball. That's where I went. So when the ball gets tipped on a play, the rule is that if it's tipped there's no flag."
Follow me on Twitter @mariamzzarella
© Copyright IBTimes 2023. All rights reserved.