Ricki Lake Says J.R. 'Hard to Beat' on 'Dancing'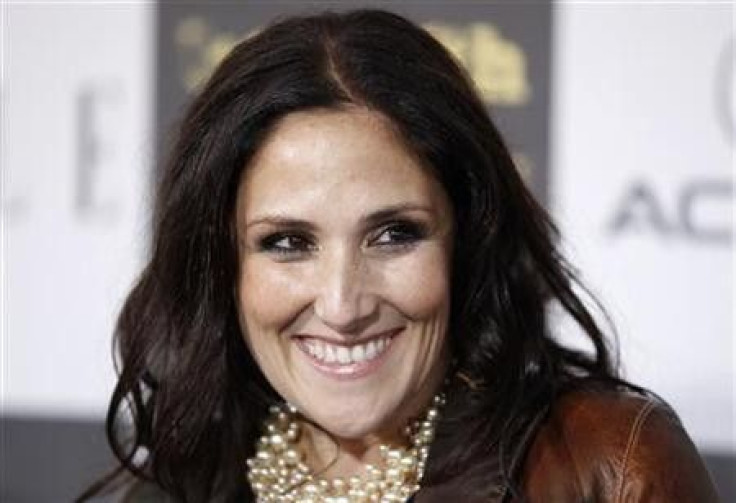 She's been atop the leader board on TV contest Dancing With the Stars several times, but Ricki Lake still doesn't believe she'll end up with the mirror ball trophy. The winner, she thinks, will be J.R. Martinez.
The war hero is going to be hard to beat. He's a better dancer than I am, Lake told Reuters. I want to win, but if I'm second, that's okay.
Lake, who parlayed a starring role in the 1988 John Waters film Hairspray into a successful career as a talk show host, is on a roll on the TV dance contest. She's lost more than 20 pounds, gone from a size 10 in September to nearly a size 4, and says she has a newfound respect for professional dancers.
They are machines, she said, If you look at my body, I look like a Dalmatian! I'm bruised from head to toe. I'm falling apart in some ways.
But all that practice has paid off. Lake started slow in the first week, but topped the leader board by her second performance. She and professional partner Derek Hough have consistently wowed the judges since then with a tango and, in another week, a quickstep which both scored a 29, just one point less than a perfect 30.
But Martinez, an Iraq war veteran and daytime drama actor, has not been far behind, and in fact, he and partner Karina Smirnoff have consistently performed ahead of the pack.
Lake said her favorite dance so far has been a rumba from week three, which she described as a celebration of love after having met a new man, Christian Evans, whom she met over a year ago. She announced their engagement in August.
NEW BUSINESS OF BEING BORN
Lake also has a new project launching November 8, More Business of Being Born, a DVD follow-up to her documentary series, The Business of Being Born, which she executive produced alongside director Abby Epstein.
The original DVD looked at childbirth and maternity care in the United States and explored options women have for giving natural childbirth.
Lake, 43, has two sons, ages 14 and 10, and gave birth in a hospital the first time around before opting for natural delivery the second time.
I wanted to be more in control with my body. One wasn't necessarily better than the other, although I felt much more empowered by the second, she said. After that, I wanted to do a project that talked about the issues involved.
Lake called the response to the first DVD incredible, but not lucrative. She said making money was not the goal and that the DVDs helped many women consider natural childbirth.
More Business of Being Born is a four-DVD set that, on one disc, looks at midwifery through the eyes of The Farm Community in Tennessee and pioneering midwife Ina May Gaskin.
The set's second and third DVDs feature star moms such as Cindy Crawford, Alanis Morissette and Gisele Bundchen, and explore options such as utilizing doulas, who provide non-medical support, and birthing centers, as well as delivery via caesarean section. The fourth DVD covers the possibility of vaginal birth after a C-section.
There's a lot of misconceptions: that (natural childbirth) is unsafe, that midwifes aren't well-trained or that they are only trained in natural birth, Lake said. The idea is to alleviate a lot of the fear that is out there.
More information is at www.thebusinessofbeingborn.com.
© Copyright Thomson Reuters 2023. All rights reserved.