RIM Bets the House on QNX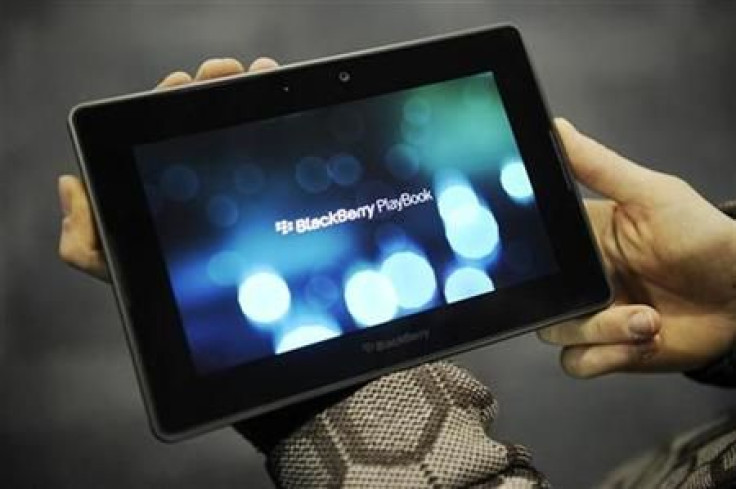 (Reuters) - Research In Motion, facing analyst stock price target downgrades after its steep profit warning on Friday, is willing to absorb huge losses on its unloved PlayBook because the success or failure of the tablet are key to RIM's hopes of revitalizing its BlackBerry.
PlayBook is RIM's poor-selling entry into the tablet market created by Apple's iPad, and is crucial to RIM's efforts to move to a new operating system that will power BlackBerry smartphones from early next year.
Since PlayBook is the first device to feature the QNX system - soon to be renamed BBX - the company can't abandon the tablet, analysts say.
QNX is important not because the tablet itself is important but because they have to attract developers to this platform because it's the pathway to BBX and obviously BBX is crucially important to the company's future, Morgan Keegan analyst Tavis McCourt said in a telephone interview.
This is their last shot, their only real shot to revive the business.
The need to stick with the PlayBook while it makes QNX/BBX work has forced RIM to offer heavy discounts on unsold PlayBooks. On Friday it announced a $485 million pre-tax writedown on the inventory and said full-year profit would not meet earlier forecasts.
Getting QNX right has been no simple task, and analysts worry RIM's evident struggle to make the software work with legacy systems to handle email or run Android apps bodes ill for the next round of BlackBerries.
Investors may be underestimating what it will take to transition to BBX - that's still a big unknown, Sterne Agee analyst Shaw Wu said in a phone interview.
On Friday, RIM said it had sold just 150,000 PlayBooks - one for every 74 iPads sold by Apple in its last quarter.
RIM also needs to get the BBX-powered BlackBerry up and running as soon as possible. Last week it said it expects to ship fewer BlackBerry smartphones in the three months to early March than in the previous quarter, implying weak demand for the latest phones powered by its legacy operating system.
BlackBerry 7 is just not selling like it should, Morgan Keegan's McCourt said, referring to that latest line. The fundamentals will be tough until BBX launches.
The once-dominant Canadian smartphone company's share price and U.S. market share have shriveled as consumers flock to Apple devices and others using Google's Android software.
The BlackBerry sales data is further underscoring (RIM's) current lack of competitive edge and its urgent need to accelerate the migration to QNX-derived BBX, Exane BNP Paribas analyst Alexander Peterc wrote in a note to clients.
But McCourt says RIM needs to make sure the BBX-equipped BlackBerry is ready before launching the product. If BBX fails it's clearly over, so why would you rush that, he said.
UNSOLD STOCK
Nomura says RIM likely has a stockpile of at least 1 million unsold PlayBooks. The 7-inch device has no in-built email, lacks other standard functions and has a dearth of the kind of third-party applications that help sell rival devices.
RIM had hoped to get some Android apps to run on the PlayBook by the North American summer, but it has delayed that until a February software upgrade that will link the device to RIM's private network, which suffered a massive failure in October.
The company seems to be mis-executing in hardware, software and service - the entire operation, wrote Deutsche Bank analyst Brian Modoff wrote.
At least four brokerages cut their price targets on RIM's U.S.-listed stock on Monday.
CIBC slashed its price target $25 from $55, while Nomura cut its target to $18.90 from $26. This is the highest price we think any financial bidder is likely to offer in a take-over bid, it said. Speculation has been rife that RIM could be the target of a strategic buyout.
An indefinite period of decline has now begun, analyst Matthew Robison at Wunderlich Securities said, cutting his price target on RIM's stock to $16 from $24.
After a plunge of almost 10 percent on Friday, RIM's Nasdaq-listed shares closed 1.5 percent higher at $17.02 on Monday. Its Toronto-listed stock gained 1.3 percent to C$17.30. The stock has lost more than 70 percent of its value this year. ($1 = 1.0131 Canadian dollars)
© Copyright Thomson Reuters 2023. All rights reserved.