Ring Of Honor Champion Adam Cole Talks Defending His Title, Bullet Club, Dream WWE Match & More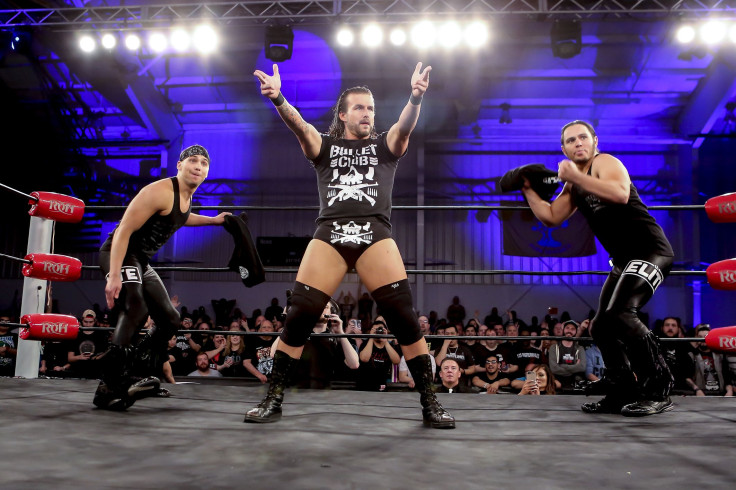 The landscape of professional wrestling has seen a significant change in the last few years. There is greater opportunity for performers to become stars outside of WWE, and few have had more success doing so than Adam Cole.
At just 27 years old, Cole is already making history. He's set a record with three reigns as the Ring of Honor World Champion, and he has his eyes set on even more, also wrestling for New Japan Pro-Wrestling.
"When I broke into wrestling, I didn't do it with the intention of just doing OK or giving it my best shot," Cole told International Business Times. "I did it with the intention of trying to break records and trying to leave a lasting impression, not just on the fans, but on wrestling as a whole."
Since it's infancy in 2002, Ring of Honor has become known for its stellar in-ring product. As a result, the promotion has produced some of the biggest names in all of professional wrestling.
CM Punk and Daniel Bryan, arguably two of the three biggest WWE stars of the last decade, were synonymous with Ring of Honor in the early part of their careers. Of the 21 wrestlers that have ever held the ROH World Championship, five are currently performing for WWE, including Kevin Owens, who is the top champion on "Monday Night Raw."
None of them, however, have had as many title reigns as Cole, who regained the championship for a third time when he defeated Kyle O'Reilly at Wrestle Kingdom 11 on Jan. 4.
"If you look at the state of pro wrestling right now, a lot of the guys who are leading the charge in every company all over the world come from Ring of Honor," Cole told IBT. "Ring of Honor has been known for developing really great talent for years and years now, so of course there's that added pressure. Especially when you're in the top tier of the elite guys who have held the Ring of Honor World Championship."
Assuming Cole is still the champ on March 10—he's scheduled to face Bobby Fish in a championship match at Manhattan Mayhem on March 4—he will defend his title against Christopher Daniels at ROH's 15th Anniversary pay-per-view in Las Vegas. Daniels competed in the main event of the first-ever ROH show, and he's looking to win the world championship for the first time in his career. The PPV will be available at rohwrestling.com and with the Fite TV app.
Each of Cole's title reigns has elevated his position in the world of professional wrestling, though his inclusion in Bullet Club has arguably had just as big of an impact on his career. The faction might have reached its peak just before former members AJ Styles, Luke Gallows and Karl Anderson all left for WWE one year ago, but the latest version that includes Cole is still going strong.
"Based on live reactions and support we have from diehard Bullet Club fans, I feel like it's not going away anytime soon. There's no question when I joined Bullet Club it was the most talked about thing that I've ever done in my career. There was more interaction with social media, the droves of extra fans that started supporting me because they're Bullet Club supporters. The passion that these fans have for this group is pretty surreal. It transcends not just New Japan Pro-Wrestling and Ring of Honor, but you even see shades of it in WWE and independent promotions all across the world."
Even though Bullet Club is a heel faction, members like Cole and The Young Bucks are often cheered when wrestling in the United States because the group is so popular. Cole says he's usually able to get heat from the fans by the time his matches are over, but he's stopped being concerned with getting treated like a babyface when he walks through the curtain.
"A lot of people loved 'The Dark Knight' and the Joker was supposed to be the bad guy. So many people loved the Joker. Wrestling has more in common with a show like 'Game of Thrones' than it does MMA. So some people are gonna like characters, not like characters. In a society that is so shades of gray right now, as long as people are making noise and coming to the event, I think it's a move in the right direction."
Four former Bullet Club members are currently on WWE's roster, and it appears to be a near certainty that Cole will eventually join them. He's proven to be a top talent, and WWE has made it their business in the last few years to sign the world's best independent wrestlers.
Cole's ROH contract was set to conclude at the end of 2016, but he signed a four-month extension with the company. Cole is uncertain what his future holds, but he does have two immediate goals.
"Because this is the first-ever three-time ROH championship reign, I want to make it special. I want to make it stand out. I want to make it something that people talk about years from now, so that very much is my focus. And the other thing is now that I've been able to tour Japan, I want to leave a lasting impact in New Japan Pro-Wrestling. I feel that I've only scratched the surface and gotten my feet wet as far as what I can do in New Japan Pro-Wrestling. I want to win championships in New Japan Pro-Wrestling and I want to have high-profile matches in New Japan Pro-Wrestling."
Assuming he avoids major injuries, the sky is the limit for Cole. Most wrestlers don't have their greatest success until their mid-30s, a sign that the ROH World Champion isn't even close to reaching his prime.
As long as he's wrestling for promotions other than WWE, fans will continue to talk about Cole's future with the company. That includes possible matches that could take place, though Cole has a particular one in mind.
"I think the No. 1 guy that I've never ever gotten in the ring with that I would love to wrestle would probably be Seth Rollins," Cole said. "A lot of people already talk about the possibility of me and him going toe-to-toe and wrestling, and I think me and him would definitely have a special match that people would talk about for a while."
Until that time comes, Cole's focus is to continue getting better and putting on great matches. With so much wrestling outside of WWE gaining attention, that's become increasingly important.
"I don't think there's ever been a time where more great wrestling is so easily accessible across the board. So in turn, I think that's forced everyone to step their game up and continue to push and set that bar even higher."
© Copyright IBTimes 2023. All rights reserved.