'Road To Redemption' Finale: Pumpkin Shocked As Mama June Wants Her To Adopt Alana
KEY POINTS
The "Mama June: Road to Redemption" Season 6 finale featured an intense confrontation between Mama June and Pumpkin
Mama June signed her youngest daughter Alana "Honey Boo Boo" Thompson's custody papers
Tensions rose when Pumpkin requested child support amounting to $2,000 a month
"Mama June: Road to Redemption" Season 6 aired its final episode this week, and it featured an intense confrontation between Mama June Shannon and her daughter Lauryn "Pumpkin" Shannon.
On Friday's episode, things seemed to be going well in the first half since Mama June had already signed her youngest daughter Alana "Honey Boo Boo" Thompson's custody papers when the controversial matriarch, Pumpkin and Jessica "Chubbs" Shannon were in Las Vegas.
But things took a different turn halfway through the episode when Pumpkin was told that she needed Mama June to sign the papers again due to a technicality. The 22-year-old reality star hired a new lawyer and planned to ambush Mama June during the signing by bringing up child support.
When Mama June and Pumpkin arrived at the lawyer's office, the former discovered that the latter was requesting child support amounting to $2,000 a month. This caught the Shannon matriarch off-guard, so she refused to sign the papers.
"I can't afford that, to be honest. … There's no way I can pay $2,000. If this is gonna go in court, then I'll do [it]. If she thinks there's this abundance of money, there's [no] abundance of money," Mama June told Pumpkin's lawyer.
Pumpkin did not back down and pointed out that the court might decide to order a bigger amount since all of Mama June's financial records would be subpoenaed. But Mama June insisted that she was incapable of paying the amount, so she suggested paying "a few hundred dollars a month."
When the lawyer explained to Mama June the importance of child support, she countered that she wouldn't have to pay if she were to sign away her rights to Alana. But the lawyer told her that she had it wrong because she was just signing Alana's custody to Pumpkin, who seemed angry at this point.
In a confessional, Pumpkin lashed out at her mom for claiming that she's been helping her financially by providing for Alana's needs. She also slammed Mama June for refusing to pay child support for Alana when she's been spending her money on her beaus, past and present.
"You know mama can claim that she's helped us financially with Alana in the last four years, but that is not the case. Unless I absolutely have to ask her for money. … For the last four years, me and Josh have had to deal with the financial burden of taking care of Alana," she said.
Back to their conversation with the lawyer, Mama June made it clear that she'd be more than willing to sign her rights to Alana and have Pumpkin adopt her daughter than have to pay $2,000 per month in child support.
"I can't even believe the words coming out of Mama's mouth. The fact that she would rather me adopt Alana and she be physically mine, never yours and you never have any responsibility ever than give me some type of money. Make it make sense," an annoyed Pumpkin said.
She continued, "You literally blow money, 24/7, on this new man, some 24-year-old guy, Geno, Sugar Bear. All this money you blow on these men, and you refuse to give me money for your child that I have been taking care of for four years now."
In the end, Mama June and Pumpkin walked out of the office without resolving the issue. But a post-credits scene revealed that Pumpkin and her husband were awarded full custody of Alana, and Mama June was ordered to pay $800 per month in child support.
Now that "Mama June: Road to Redemption" Season 6 is over, fans could be wondering what's next for the reality family. We TV has yet to cancel or renew the show for another season. But there have been rumors about a new show starring Pumpkin and Alana without Mama June. International Business Times could not verify those rumors.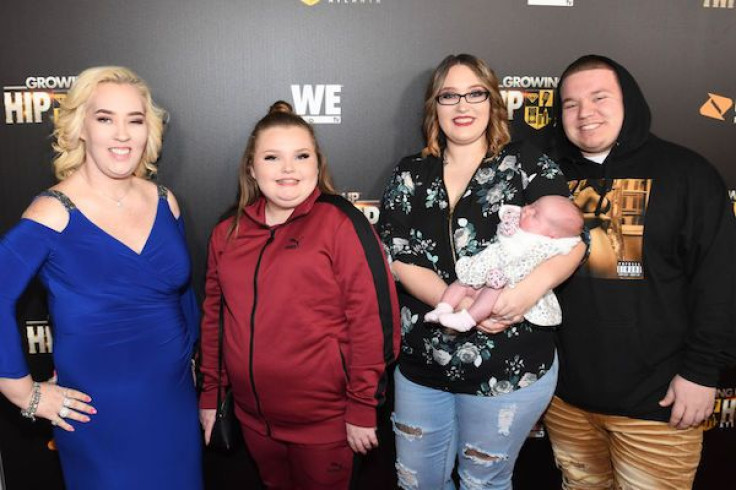 © Copyright IBTimes 2023. All rights reserved.