Robert Durst Arrested Update: 'The Jinx' Subject Reportedly Possessed Gun During Arrest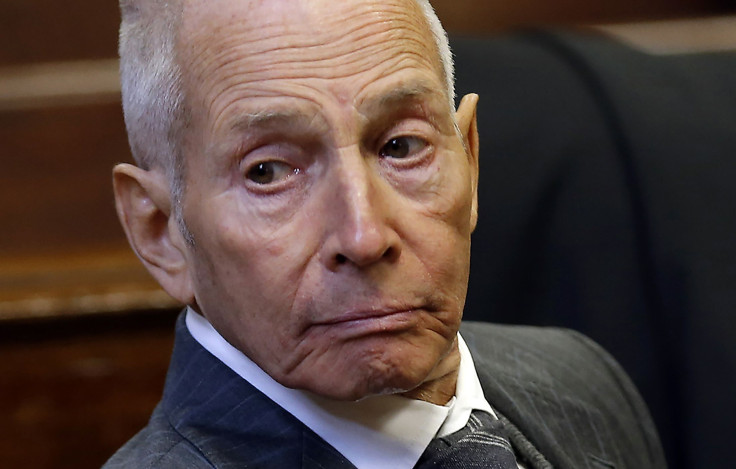 Eccentric millionaire Robert Durst was in possession of a handgun when he was arrested in New Orleans on murder charges Saturday, a day before the Sunday airing of an apparent confession on the final episode of "The Jinx," the HBO documentary centering on whether Durst killed his wife, his friend and a neighbor, the Associated Press reported Monday. Durst has long maintained that he didn't murder his wife in 1982, friend Susan Berman in 2000 or neighbor Morris Black in 2001, but a microphone clipped on him as part of the HBO show picked up him telling himself while he was in a bathroom that he "killed them all."
Durst, the 71-year-old son of late New York real estate mogul Seymour Durst, was never charged in the murder of wife Kathleen McCormack Durst and didn't face charges in the death of Berman until Saturday, when he was picked up in New Orleans. Durst waived extradition Monday to Los Angeles, where he is expected to face charges in the killing of Berman, who was supposed to be interviewed by New York authorities in McCormack's death shortly before she was shot execution-style, according to the Los Angeles Times. Durst was acquitted in the killing of Black, although he admitted to dismembering his neighbor's body in Galveston, Texas. Durst lived in Texas as authorities in New York investigated his wife's disappearance under suspicious circumstances. He lived as a mute woman in Galveston.
An LAPD statement issued Sunday did not mention the "I killed them all" comment Durst said to himself during "The Jinx" taping. "As a result of investigative leads and additional evidence that has come to light in the past year, investigators have identified Robert Durst as the person responsible for Ms. Berman's death," the statement read, according to the Times.
Durst may face further charges in New Orleans because a permit is needed to carry a concealed gun in Louisiana. It's not clear whether Durst had such a permit, according to the AP.
© Copyright IBTimes 2023. All rights reserved.