Rock documentaries shake up Toronto film festival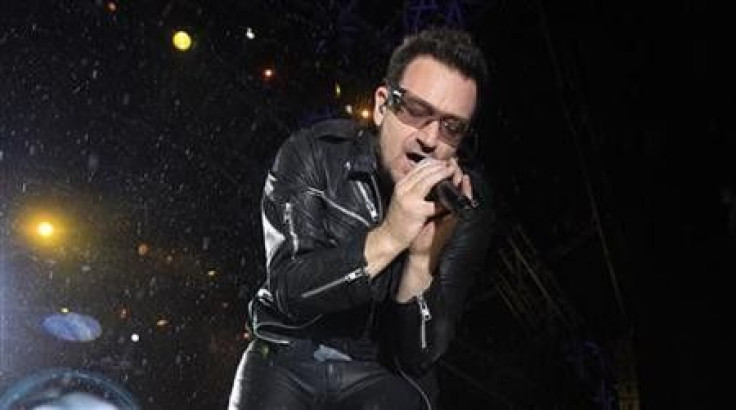 Irish rockers U2 and American grunge band Pearl Jam will have the Toronto International Film Festival rocking this year, while George Clooney and Brad Pitt bring some A-List star power to the event that helps launch Hollywood's Oscar season.
The festival will open on September 8 with the world premiere of "From the Sky Down" by Davis Guggenheim, who directed the Oscar-winning documentary "An Inconvenient Truth", the first time in the event's 36-year history that a documentary has been the debut night movie.
"This powerful marriage of music and film honors U2's talent, dedication and music," said festival co-director Cameron Bailey. "Guggenheim's extraordinary access really speaks to the continued importance of the documentary form."
A second rock documentary, "Pearl Jam Twenty" by "Almost Famous" director Cameron Crowe, will also have its world premiere at the 10-day festival.
Films featuring Clooney, Pitt, Susan Sarandon, Viggo Mortensen and Keira Knightley will be screened, along with new works by directors Luc Besson, Lasse Hallstrom, Francis Ford Coppola and Michael Winterbottom.
"Melancholia" by Danish director Lars von Trier, who was expelled from the Cannes Film Festival in May for joking about Hitler, will have its North American premiere at the festival.
Launched in 1976, TIFF now ranks with festivals such as Cannes and Sundance, and serves as a launching point for international films seeking North American distribution. It also has a strong record of unearthing films that go on to success at the Academy Awards.
Last year's top prize at Toronto went to the "The King's Speech", went on to win four Oscars including best picture.
Programmers announced 10 gala films and 43 special selections on Tuesday, including 31 world premieres. The festival will announce the rest of the line-up next month, which is expected to top 300 films.
BRIGHT STARS
Among the gala films at the festival will be the world premiere of Bennett Miller's "Moneyball", starring Pitt, and French director Besson's "The Lady", about Myanmar's opposition leader Aung San Suu Kyi.
Clooney's "The Ides of March", starring Canadian actor Ryan Gosling will have its North American premiere at the festival, with Clooney also appearing in the world premiere of Alexander Payne's "The Descendants".
Among Canadian offerings, the festival will screen host a gala screening for the world premiere of actress-director Sarah Polley's "Take this Waltz" and the North American premiere of David Cronenberg's "A Dangerous Method".
"The international scope and diversity of voices in these programs are impressive and inspiring," said TIFF chief executive Piers Handling.
Co-director Bailey added: "Our mandate is to screen the best cinema we can find from every part of the globe."
The festival has also commissioned a short film to honor the 10th anniversary of the September 11 terrorist attacks in New York.
© Copyright Thomson Reuters 2023. All rights reserved.