Rolling Stone Article Reportedly Quotes Donald Trump Mocking Carly Fiorina,Teasing Her On Her Looks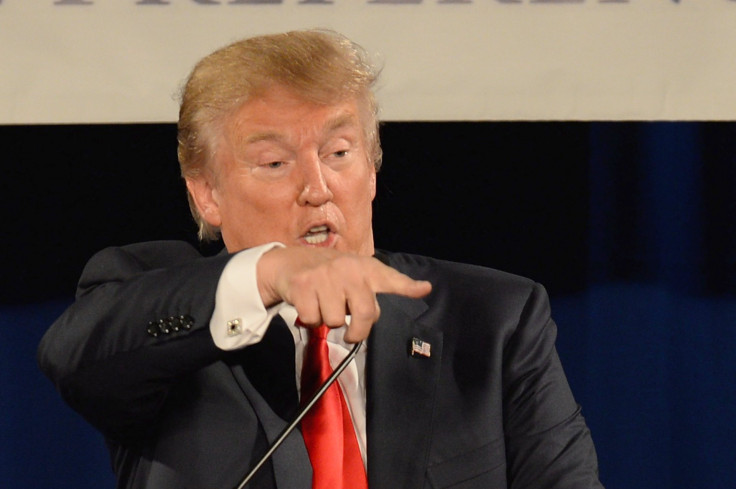 Republican presidential candidate Donald Trump reportedly mocked GOP rival Carly Fiorina's appearance during a recent interview with Rolling Stone magazine. The comments reportedly occurred while Trump was aboard his plane after a rally in Hampton, New Hampshire, Bloomberg Politics reported Wednesday.
"Look at that face! Would anyone vote for that? Can you imagine that, the face of our next president?" Trump reportedly exclaimed when Fiorina, the former CEO of Silicon Valley tech company Hewlett-Packard, appeared on Fox News Channel. "I mean, she's a woman, and I'm not supposed to say bad things, but really, folks, come on. Are we serious?"
Fiorina responded to the insult Wednesday night while appearing on host Megyn Kelly's show, "The Kelly File," on Fox News Channel.
"I think those comments speak for themselves," Fiorina said, as Bloomberg Politics reported. "Maybe, just maybe, I'm getting under his skin a little bit because I am climbing in the polls."
In the past, Trump has made several offensive comments directed toward women. After the first Republican debate Aug. 6 in Cleveland, some say Trump suggested that Kelly's line of questioning during her time as debate moderator was a result of menstruation, although he denied the insinuation. He then re-tweeted a comment from one of his supporters, who referred to Kelly as a "bimbo," the Hill reported.
After Trump's comments about Kelly, Fiorina responded on Twitter, writing, "Mr. Trump: There. Is. No. Excuse."
Trump also reportedly made comments about Fiorina during the Hampton rally, Bloomberg Politics reported.
"Carly was a little nasty to me -- be careful, Carly! Be careful! But I can't say anything to her because she's a woman. ... I promised that I wouldn't say that she ran Hewlett-Packard into the ground," said Trump, Bloomberg Politics reported. "I said I wouldn't say it! That her stock value tanked. That she laid off tens of thousands of people, and she got viciously fired. I said I will not say that. And that she then went out and ran against Barbara Boxer, and ... lost in a landslide. And I said, 'I. Will. Not. Say. That!' " [Trump was referring to Fiorina's failed pursuit of a U.S. Senate in California against Boxer, the Democratic incumbent, in 2010.]
Trump and Fiorina are expected to each participate in the second GOP debate, at the Ronald Reagan presidential library in Simi Valley, California, scheduled for Sept. 16 on CNN. The Rolling Stone issue featuring the Trump profile is scheduled to hit newsstands Friday.
© Copyright IBTimes 2023. All rights reserved.