Ron DeSantis Boasts About Sending Away Immigrants, Gets Called 'Human Trafficker' Online
KEY POINTS
Ron DeSantis said Florida is not a "sanctuary jurisdiction"
He made the comments while boasting about taking migrants to Martha's Vineyard
DeSantis' detractors said he violated segments of the Immigration and Nationality Act
Florida Gov. Ron DeSantis reportedly sent 50 Venezuelan migrants to Martha's Vineyard on Wednesday. His communications director said they were transported on planes as part of a state program to move "illegal immigrants to sanctuary destinations."
DeSantis boasted about his actions that are being harshly criticized within the political circuit and among the citizens.
"In Florida, we take what is happening at the southern border seriously. We are not a sanctuary state, and we will gladly facilitate the transport of illegal immigrants to sanctuary jurisdictions," he shared with his 2.7 million Twitter followers.
In an accompanying video, DeSantis, while addressing the press regarding the matter, said, "We are not a sanctuary state and it's better to be able to go to a sanctuary jurisdiction and yes we will help facilitate that transport for you to be able to go to greener pastures."
He continued, "Biden would fly people in the middle of the night. Dump them all across the country. There was no warning on any of this. And all those people in D.C. and New York were beating their chests when Trump was President saying they were so proud to be sanctuary jurisdictions. Saying how bad it was to have a secure border."
DeSantis added, "The minute even a small fraction of what those border towns deal with everyday is brought to their front door, they all of a sudden go berserk and they're so upset that this is happening and it just shows you, you know, their virtue signaling is a fraud, okay?"
Regarding the decision to send migrants to Massachusetts, the governor's communications director Tarn Fenske said, "States like Massachusetts, New York and California will better facilitate the care of these individuals who they have invited into our country by incentivizing illegal immigration through their designation as 'sanctuary states' and support for the Biden administration's open border policies," according to Boston.com.
This plane originated in Texas, and migrants staying at a San Antonio shelter were the first ones to get on it. Pit stops were made in Florida and South Carolina before the plane landed in Martha's Vineyard, reported NPR.
DeSantis's actions have angered people, who pushed for strict action against him, saying he violated segments of the Immigration and Nationality Act.
"It a FEDERAL CRIME to transport or attempt to transport a noncitizen within the U.S. Immigration and Nationality Act (I.N.A.), at Section 274(a)(1)(A)(ii). Florida Governor DeSantis thinks he was cute sending immigrants to Mass. The FBI should be on this," a tweet read.
"Did you know? Section 274(a)(1)(A)(ii) of the Immigration and Nationality Act makes it a federal crime to knowingly transport undocumented persons across state lines. — Ron DeSantis and Greg Abbott should be immediately arrested," tweeted another.
"Just got off the phone with the @WhiteHouse. I'm asking the @TheJusticeDept to investigate Ron DeSantis' political human trafficking," tweeted Nikki Fried, Florida's Commissioner of Agriculture.
"CNN's Jake Tapper just let a reporter say Ron DeSantis' move will cause 'anguish' for Democrats & that it 'checks a lot of boxes' for his political campaign. CNN is whitewashing human trafficking. It's a crime. It's a crime. It's a crime. Call it for what it is. CNN is sickening," activist Dash Dobrofsky wrote.
"On top of being a full blown fascist, Ron DeSantis has now gone full blown human trafficker," read another tweet.
"Matt Gaetz is a sex trafficker. Ron DeSantis and Greg Abbott are both human traffickers. All three are Republican politicians," wrote another irate user.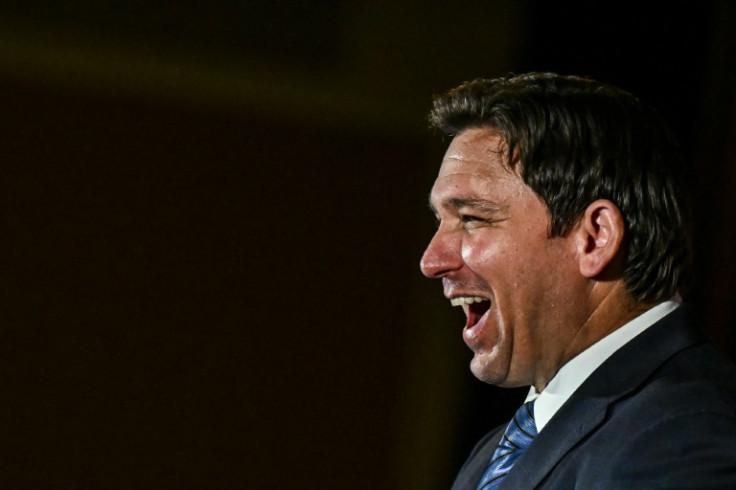 © Copyright IBTimes 2023. All rights reserved.
FOLLOW MORE IBT NEWS ON THE BELOW CHANNELS