Royal Family Residences: Everything You Should Know
As the people of the U.K. mourn the death of their Queen, the recent changes in the British monarchy have also stoked the curiosity of many regarding the royal family. For those wondering where the royals, including the new monarch and his wife, the Queen Consort live, here's a list of the members and their residences.
King Charles III and Queen Consort
After the death of Queen Elizabeth II on Sept. 8, the former Prince of Wales became the King. Besides the new title, the King also added his mother's residences to his real estate list including the property where she died, Balmoral Castle in Scotland.
Before the Queen's death, the former Prince Charles - now King Charles III - and his wife, Camilla - now Queen Consort - had six properties of their own (some inherited while others were purchased).
King Charles will be moving out of his long-term residence, Clarence House in London, and moving into Buckingham Palace, which he inherited after the Queen's death.
Prince William and Princess Kate
Prince William and Princess Kate left London's Kensington Palace to live in their new home, Adelaide Cottage located in Windsor.
Maria Borrallo, the caretaker of their three children - Prince George, 9, Princess Charlotte, 7, and Prince Louis, 4 - will also move into Windsor with them. However, this will be the first time she won't be living with the royal family in their home due to less number of bedrooms, as per multiple reports.
Prince Harry and Meghan Markle
Prince Harry and Meghan Markle used to live in Frogmore Cottage located in Windsor before stepping down from their royal life and moving to North America. The couple lived in various locations after the move, including Tyler Perry's mansion in Beverly Hills, which spanned 24,000 square feet and was worth $18 million.
Duke of Sussex and Duchess of Sussex moved to Vancouver, Canada, and Los Angeles before they decided to live in Montecito, California. They purchased this house for $14.65 million. "We did everything we could to get this house," Markle told The Cut in August.
"One of the first things my husband saw when we walked around the house was those two palm trees," Markle added. "See how they're connected at the bottom? He goes, 'My love, it's us.' And now every day when Archie goes by us, he says, 'Hi, Momma. Hi, Papa.'"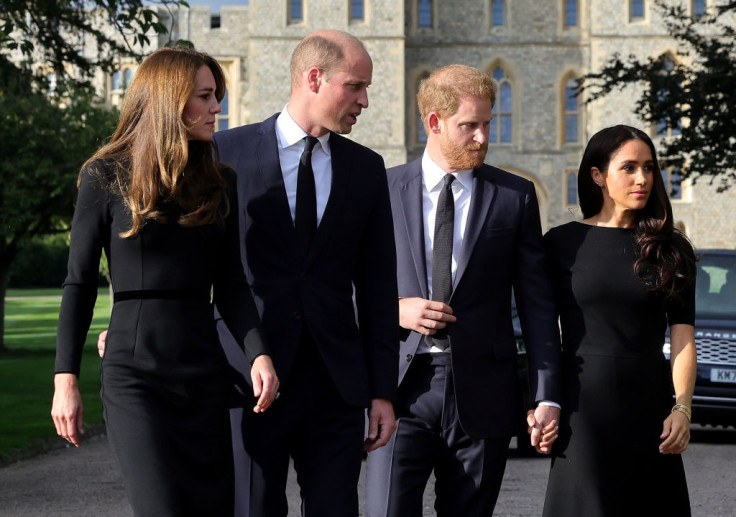 © Copyright IBTimes 2023. All rights reserved.