Russell Brand Suggests Threesome to Khloe Kardashian Odom, Kourtney Kardashian and Pregnant Kim Kardashian on 'Chelsea Lately' [VIDEO]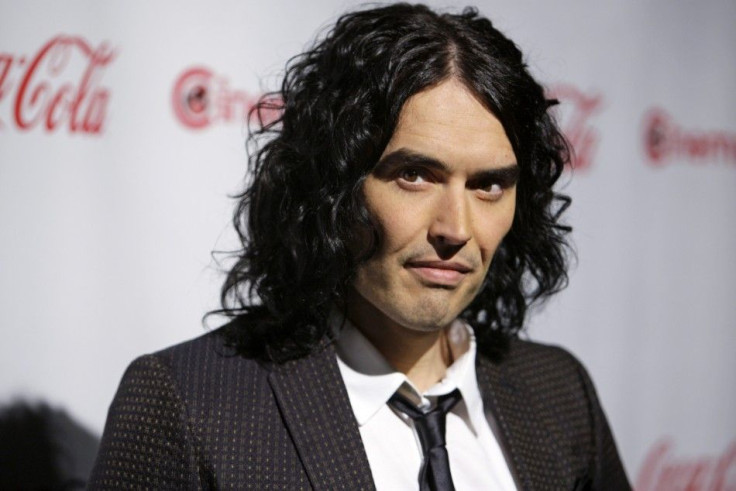 While the host is out for the day, the Kardashians come out to play.
The Kardashian unholy trinity, Kim and Kourtney Kardashian and Khloe Karashian Odom, took over Chelsea Handler's late night talk show "Chelsea Lately" on E! Monday night. The trio made quite an impression after guest Russell Brand suggested a threesome with the reality star sisters.
"I think you are all very beautiful and it's nice to see you all on one couch where you are malleable," said Brand, who was prompted to discuss the topic after previous "X" Factor" host, Kardashian Odom, asked the comedian if the sibling trio made him "horny."
"I'm vulnerable to the concept of a KKK threesome," said Brand. "I think pregnant women are radiant and beautiful and the idea of lactation is an interesting one. … I will traverse the universe for a solarium such as this one," he said.
Not to be outdone, Kardashian Odom responded to a shocked audience by saying, "Well, I heard pregnant p---y is the best p---y."
Brand recently joined the Kardashians on the growing list of stars who have been victim to the "swatting" prank, which involves a false 911 call that results in a SWAT team arriving at a celebrity home.
TMZ reported that the authorities received an emergency call on Monday reporting two armed men covered in body armor approaching Brand's property. Authorities responded, but there were no such figures found at the scene. Brand was not home at the time.
The Kardashians will be making an appearance on Handler's other E! program, "After Lately," April 15 at 10:30 p.m. ET.
"Chelsea Lately" airs weeknights on E! at 11 p.m. ET.
© Copyright IBTimes 2023. All rights reserved.