Russia Calls Turkey 'Dangerous,' But Won't Pass More Sanctions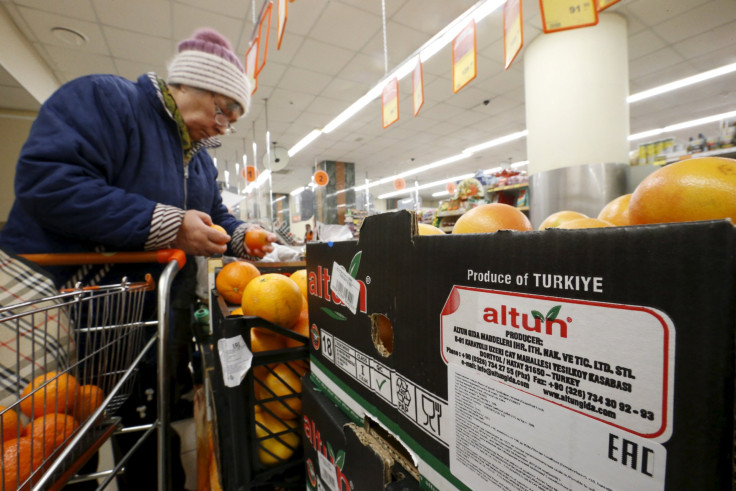 Turkey has calculated the cost Russian sanctions could have on its economy, with estimates of a loss of 0.4 percent of the country's gross domestic product, Bloomberg reported Monday. Ankara's estimate comes as Moscow says it is not planning to expand the scope of its sanctions, which have targeted Turkish fruits and vegetables as well as its tourism sector.
"I don't expect to see the relationship being reduced to zero under any circumstances," said Turkish Deputy Prime Minister Mehmet Simsek speaking with local media about trade with Moscow. "The total impact should be as much as 0.3 to 0.4 percent of our national income. Part of that would be due to the short-term impact of tensions with Russia, while the rest would be due to the state of the Russian economy."
With the estimate of a 0.4 percent loss, Turkey could see a cut of approximately $2.3 billion from its $745 billion economy. Ankara has also calculated a worst-case scenario estimate if trade completely halted between the two countries. That outcome would cost Turkey $9 billion.
The loss estimates come as Russia's economic development minister said in an interview published Monday that the Kremlin was not planning to expand its economic sanctions against Ankara, the Moscow Times reported. However, Minister Alexei Ulyukayev said it was unlikely Russia would move to restore visa-free travel for Turkish citizens in the near term. The Kremlin told tour operators to stop selling vacations to Turkey, a favorite destination that was visited by over 3 million Russian tourists in 2014. Ulyukayev added that Turkey's proximity to Syria means Russians could face danger there.
"The risk of people's presence on a territory that is dangerous, and the risk of that danger being brought here — those are significant factors," Ulyukayev said, Russian newspaper Vedomosti reported. "In my view, the visa regime that we are introducing will remain in place for a long time. But tomatoes don't carry that risk, so [the ban on their imports] can be the first thing to be abolished."
Russia applied sanctions against Turkey after Ankara shot down a Russian Su-24 jet at the end of November. Turkey says the jet entered its airspace, a charge Moscow continues to deny.
© Copyright IBTimes 2023. All rights reserved.