Is Russia's Hold On Ukraine & Europe Dwindling? How Chevron (CVX) May Unlock Energy Security Concerns For Ukraine & Europe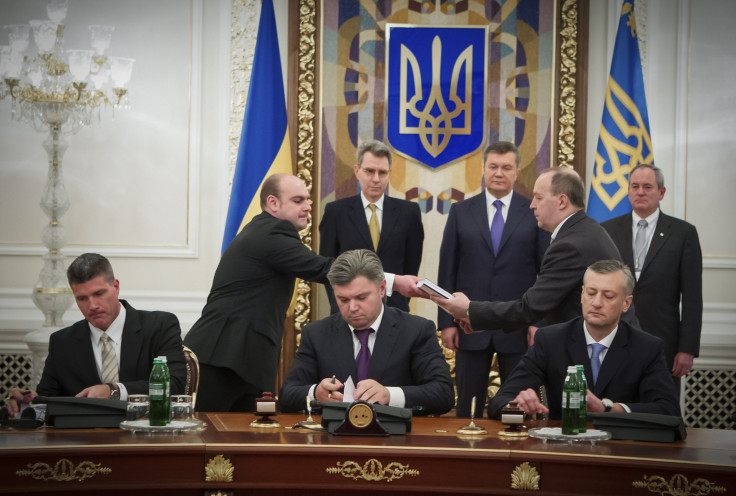 Ukraine may be a step closer to strengthening its energy independence. The nation signed a $10 billion agreement with Chevron Corp. (NYSE:CVX) to explore shale gas, an energy expert told the International Business Times on Thursday.
"This is one more step towards achieving full energy independence for the state," Eduart Stavytsky, Ukraine's energy minister, said at the signing Tuesday. "This will bring cheaper gas prices and the sort of just prices which exist [elsewhere] in the world." For years Ukraine has been reliant on Russia for imported natural gas, which has left Kiev at the mercy of Russian state-owned gas company Gazprom (MCX:GAZP).
In 2006, Russia, with the flip of a switch, cut natural gas supplies to Ukraine because Kiev did not want to pay a hike in prices, leaving Europe in the cold. Europe relies heavily on natural gas that transits through Ukraine.
Ukraine is locked into contracts at rates far above the levels that exist on the domestic market, and the "resulting financial shortfall has left Ukraine's public finances in a parlous state and creates vulnerability in Ukraine's relations with Russia," Nick Redman, a senior fellow of geopolitical risk and economic security at the Institute for National Strategic Studies, told IBTimes.
Chevron's agreement with Ukraine was supported by the U.S. as part of its national security strategy to help reduce Russia's hold on Europe and Kiev.
"I'm very determined to cooperate with the Ukrainian government in strengthening Ukraine's energy independence. There are several areas on the road to this goal," Geoffrey Pyatt, the U.S. ambassador to Ukraine, said last month.
The U.S. administration has also promoted the so-called Southern Corridor series of pipelines, a transit route for gas coming from the Caspian Sea basin to Europe, as a means to diversify Europe's energy without having to rely on Russian gas that passes through Ukraine.
If Kiev achieves gas self-sufficiency, "it would remove one lever of influence that Russia has over Ukraine," Redman said, adding that the extraction of shale gas is now only a possibility.
While Stavytsky is excited about his country's future, his neighbor to the east is observing the situation with weary eyes.
"For Russia, it presents the prospect that in 20 years' time Ukraine may no longer be a large market for Gazprom," Redman said. "In addition to the potential loss of market, that could also raise Russia's perception of risk around the security of gas supplies to Europe that transit Ukraine -- because Ukraine would be less dependent on Russia."
However, Russia is hedging against that possibility by building pipelines that will bypass Ukraine, said Redman, who added that the Russians are unlikely to lose sleep over the Chevron deal.
© Copyright IBTimes 2023. All rights reserved.