Ryan Joins Romney On 'America's Comeback Team'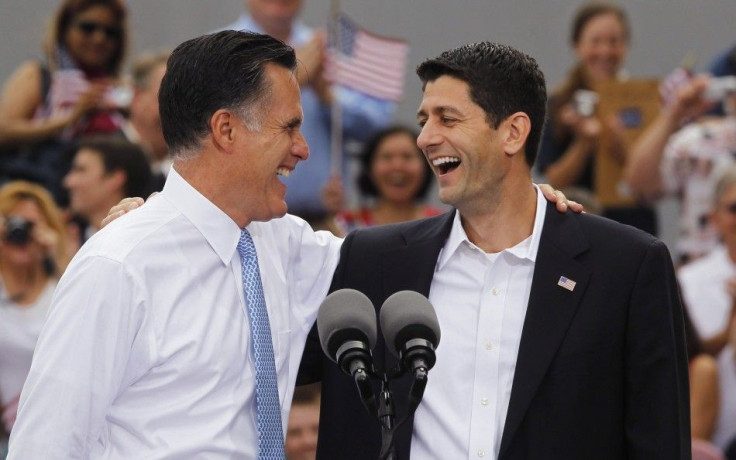 Republican presidential candidate Mitt Romney introduced Rep. Paul Ryan of Wisconsin as his running mate in a campaign rally on the USS Wisconsin in Norfolk, Va., Saturday morning.
Ryan told the cheering throng he and Romney will "have the courage to tell you the truth. I'm thrilled to be part of America's comeback team. Together we will unite America and we will get this done."
"We won't duck the tough issues, we will lead," he said. "We won't blame others; we will take responsibility. And we won't replace our founding principles, we will reapply them."
"President Obama has become part of the problem and Mitt Romney is the solution," Ryan said. "We need new leadership to become part of the solution ... new leadership to restore prosperity and to restore economic growth and jobs. It is our duty to save the American dream for our children and theirs."
Romney, for his part, hailed Ryan as the "intellectual leader" of the Republican Party, the Los Angeles Times reported.
"Paul and I are beginning on a journey that will take us to every corner of America," Romney told thousands of supporters. "We are offering a positive governing agenda that will lead to economic growth, to widespread and shared prosperity, and that will improve the lives of our fellow citizens. Our plan to strengthen the middle class will get America back to work and get our country back on track."
The men, dubbed "America's Comeback Team" by the campaign, appeared together at the USS Wisconsin, a retired battleship whose name was a nod to the Ryan's home state. Romney appeared in a light blue tie and no jacket, while Ryan wore a dark jacket and no tie.
Romney called several other top running mate contenders -- including Ohio Sen. Rob Portman and former Minnesota Gov. Tim Pawlenty -- late Friday to tell them they were not selected, the New York Daily News reported.
The announcement marked the end a months-long search by Romney for a running mate to join him in facing Democratic President Barack Obama and Vice President Joe Biden in the Nov. 6 election.
Romney starts a bus tour on Saturday through four politically divided states that he needs to win in November: Virginia, North Carolina, Florida and Ohio. Ryan will join Romney bus tour on the Virginia and North Carolina legs of the trip Saturday and Sunday, USA Today reported.
The choice of Ryan brings the debate over how to reduce government spending and debt to the forefront of the race for the White House.
Ryan was the author of the "Ryan budget." In 2010, he proposed an ambitious deficit-cutting program financed, in part, by converting Medicare into a voucher system for Americans under the age of 55.
Obama has always viewed Ryan as one of the Republican party's most formidable thinkers and has deemed Ryan's ideas "serious," high praise from a president who views the rest of the GOP as comic relief, Politico reports.
Then Obama and the Democrats proceeded to denounce Ryan's budget as a scheme to "end Medicare as we know it" - providing out-gunned incumbents with one of their few successful attack lines in the calamitous 2010 midterms. The plan - and any other Medicare reduction proposal - still polls like the plague, with 60 to 80 percent of Americans panning the idea.
Many Democrats are thrilled with the Ryan choice: No single pick Romney could have made had more power to mobilize the conservatives or unite liberals, who view Ryan as the philosophical front man for a movement to transfer entitlement spending for the poor and working class back to the wealthy.
"If it's really Ryan, Romney will have picked one of the only people who could have had an impact in the race. But, not the way he wants," tweeted Bill Burton, one of the co-founders of Priorities USA Action, a pro-Obama super PAC.
© Copyright IBTimes 2023. All rights reserved.