Sacha Baron Cohen Reveals Deleted 'Borat 2' Scene That Featured Violent Event
KEY POINTS
Sacha Baron Cohen shared an unseen footage from "Borat 2"
The actor said the situation at a rally he attended turned violent
"Borat 2" currently holds a score of 85% on review site Rotten Tomatoes
Sacha Baron Cohen gave a sneak peek into the dangers he had to go through while shooting his latest movie "Borat Subsequent Moviefilm" as he shared a deleted scene that featured a violent situation.
While making an appearance on the latest episode of "The Late Show with Stephen Colbert," the 49-year-old actor shared some unseen footage of what happened when he dressed up as a country singer named Country Steve and performed at a pro-gun rally. In the video, the actor was seen performing a song called "The Wuhan Flu" and encouraging everyone to sing along with him.
Talking about the scene, Cohen said that his cover was blown when some of the people recognized him while he was singing. The word got out and the organizers got really angry.
"The organizers and some people got really angry. They tried to storm the stage. Luckily for me, I had hired security. So, it took them a while to storm the stage," Cohen said during the interview.
As the video contiued playing, one of the angry protestors could be seen screaming at Cohen through a megaphone. The actor then left the stage and the people started cheering "USA" for some reason.
The "Dictator" actor got inside an ambulance and locked the door. However, a protester managed to open the door for a brief moment. Fortunately, Cohen's security team did not let anyone get close to him.
The video ended with Cohen telling the driver to "get the [explicit] out of here."
After seeing the clip, Colbert asked if moments like the one shown happen frequently when the actor shoots his movies. Cohen said that "Borat 2" was the only project where he had to wear a "bulletproof vest." He also shared the moment when one of the people present at the rally tried to take out a gun on him. But he was lucky enough to get out of the dangerous situation, thanks to his brave security team.
"One of the guys who stormed the stage went for his pistol and luckily enough I had a brave guard who wrapped his hand and said, 'It's not worth it, buddy,'" Cohen noted.
The Golden Globe-winning actor also shared the clip on social media and noted that "Borat 2" was "not the easiest movie to make."
"Borat Subsequent Moviefilm" currently holds a score of 85% on review site Rotten Tomatoes and is being praised for its brave storytelling.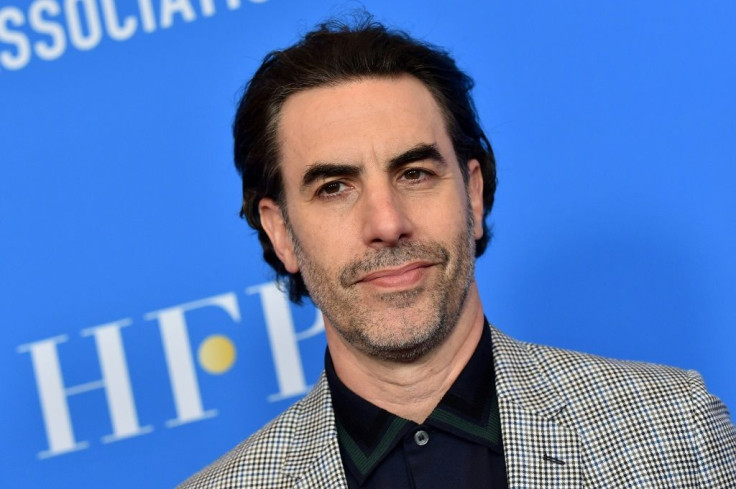 © Copyright IBTimes 2023. All rights reserved.