'Salvation': 5 Spoilers Revealed In CBS Series San Diego Comic-Con Trailer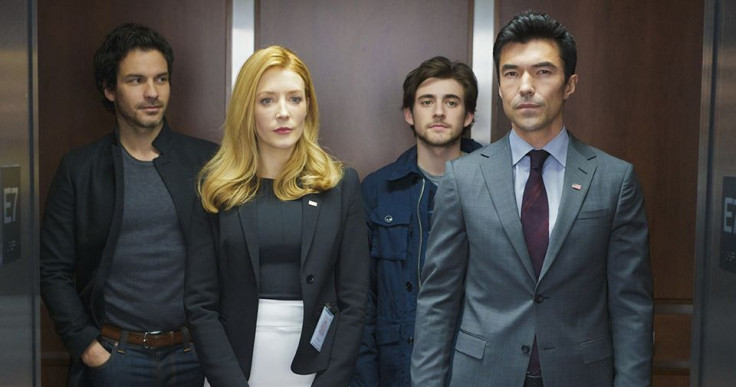 A new trailer for the rest of "Salvation" Season 1 has been released at the show's San Diego Comic-Con panel this weekend. Below are five big spoilers revealed in the promo clip:
1. A new dynamic between Darius and Grace
Darius (Santiago Cabrera) and Grace's (Jennifer Finnigan) relationship has been strictly professional since the series started. But it looks like their relationship will turn romantic later in the season. At one point in the trailer, things get awkward between the two when a woman — who appears to be Grace's mom — mistakes Darius as Grace's boyfriend.
"So, you do have a boyfriend?" the woman asks Grace in the video.
"Not yet," Darius replies. "She likes to play hard to get."
Earlier that scene, Grace is also seen intimately holding Darius' hand in a quick shot.
READ: How much of "Salvation" is based on actual science?
2. John Noble's appearance
Noble's role is being kept under wraps, but it seems like the veteran actor is playing a bad guy. In the trailer, Liam (Charlie Rowe) and his professor Dr. Malcolm Croft (Dennis Boutsikaris) successfully build a working EM Drive, but while transporting the piece of technology, the two get ambushed and the device is stolen by an unknown group of men.
"The EM Drive is in the hands of our enemy," Darius tells Grace in a scene before Noble's face appears in the clip. "We have no idea what will they do with that power … save us or destroy us."
3. Darius gets arrested
"You're under arrest on suspicion of high treason against the United States of America," Harris (Ian Anthony Dale) tells Darius in the video as a police officer handcuffs the tech billionaire. Darius is later brought to an interrogation room, where he gets punch in the face.
4. Liam discovers a mole
There's a mole in the government, and apparently Liam finds out who he/she while in car with the spy. Who could it be?
5. Liam kills someone
At the end of the trailer, a frightened Liam shoots his gun at someone. The identity of the character, however, has yet to be revealed.
"Salvation's" next episode airs on Wednesday, July 26 at 9 p.m. EDT on CBS. Check out the synopsis and trailer for Season 1, episode 3 as well as the San Diego Comic-Con trailer below:
Darius must accelerate his plan to stop the asteroid before the Pentagon shuts him down. Meanwhile, Grace is forced to make some difficult decisions that could have life or death consequences for millions of people; and Liam and Jillian (Jacqueline Byers) reunite under surprising circumstances.
© Copyright IBTimes 2023. All rights reserved.