Samsung Electronics Q2 Net Profit Falls 8%, Company Wary On Q3 Outlook Amid 'Mounting Challenges'
Samsung Electronics Co. Ltd.'s net profit declined for the fifth quarter in a row as its latest Galaxy S6 and Galaxy S6 edge smartphones failed to generate expected sales. The South Korean technology giant offered a cautious outlook for the third quarter on Thursday, and promised "flexibly" adjusted pricing of its new flagship smartphones. Samsung made the announcement after being hit by a significant decline in its mobile division's income in the second quarter of 2015.
The company recorded a net income of 5.8 trillion won ($5 billion) in the April-June quarter, down 8 percent from 6.3 trillion won a year earlier. It reported a much bigger annual decline of 38 percent in the mobile unit's operating profit and generated 2.8 trillion won, compared with 4.4 trillion won in the previous year. The only bright spot in the earnings result that helped narrow the overall profit decline was the semiconductor unit, which reported an operating profit of 3.40 trillion won, up from 1.86 trillion won a year before.
"While 2H 2015 is expected to present mounting challenges, the company will try to improve earnings," Samsung said in a statement. "While the IT & Mobile Communications (IM) Division is expected to face a difficult business environment, the sales momentum for high-end products will be maintained by adjusting the price of the Galaxy S6 and S6 edge and introducing new premium smartphone models."
Samsung's operating profit fell 4 percent to 6.9 trillion won, in line with its earnings preview announced earlier this month, while sales dropped 7 percent to 48.5 trillion won compared with the year before. Although the company pinned high hopes on the Galaxy S6 and Galaxy S6 edge that received rave reviews following their launch in April, predictions of record sales fell short of expectations, partly due to production and supply shortage.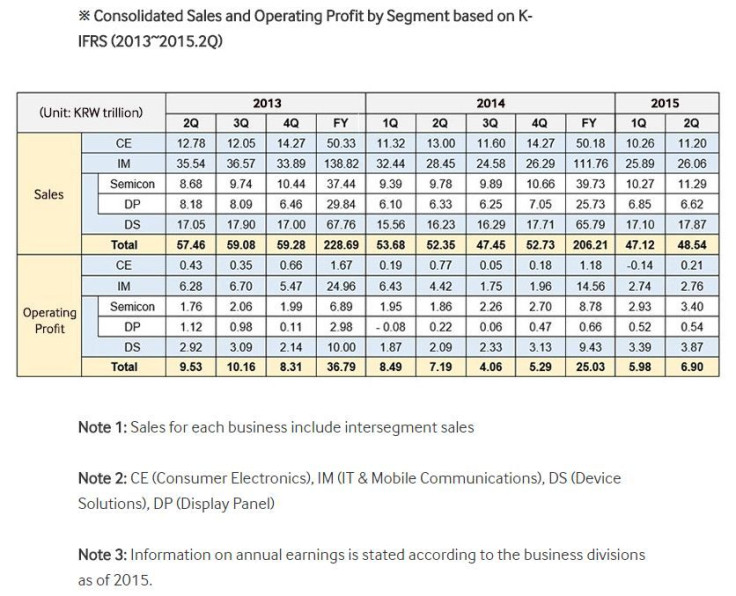 "Total sales of the S6 and S6 edge during the second quarter were below expectations," the Associated Press quoted Park Jinyoung, vice president of Samsung's mobile communications team, as saying on a conference call Thursday.
Market research firm International Data Corporation (IDC) also reported last week that Samsung, which is still the world's largest smartphone manufacturer, was the only vendor among the top five that lost market share during the second quarter. The company's market share fell to 22 percent from 25 percent a year earlier, according to IDC.
While Samsung believes that the company's upcoming mobile devices will help improve revenue, analysts say that an expected unveiling of Apple's new iPhones, dubbed the iPhone 6S and iPhone 6S Plus, in September could limit Samsung's sales growth in the third quarter.
Samsung is scheduled to hold an event on Aug. 13 in New York City, where it is expected to launch two new mobile devices -- the next-generation Galaxy Note 5 and the Galaxy S6 edge+.
© Copyright IBTimes 2023. All rights reserved.
FOLLOW MORE IBT NEWS ON THE BELOW CHANNELS