Samsung Focus 2, HTC Droid Incredible 4G LTE Launched: 4G Battle Heats Up Between AT&T?s Windows And Verizon?s Android Warriors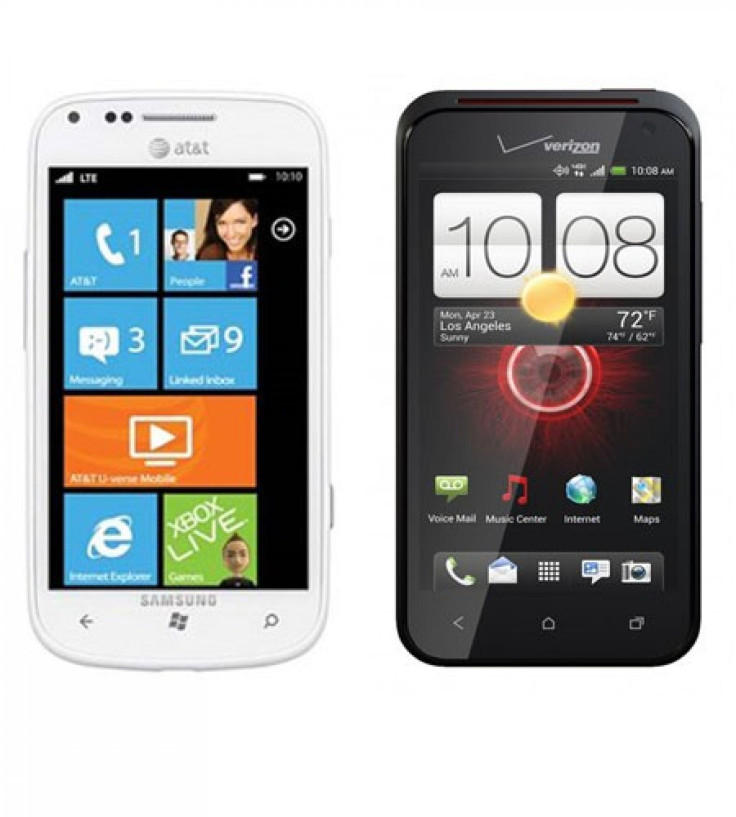 While Samsung and HTC have already stolen a lot of the limelight with their new Android smartphones, Galaxy S3 and One X respectively, both the tech giants are not done with it and recently have come up with more offerings in the line of 4G LTE smartphones.
Ahead of the Cellular Telecommunications Industry Association (CTIA) wireless trade show which is to be held in New Orleans from May 8 to May 12, Taiwanese smartphone maker HTC and South Korean phone leader Samsung announced Monday their latest 4G LTE offerings for the smartphone world enthusiasts -- DROID Incredible 4G LTE and Focus 2 4G LTE smartphone.
Despite the fact that HTC DROID Incredible 4G LTE is a high-end device featuring the latest version of Android Ice Cream Sandwich 4.0, Samsung Focus 2 is a Windows 7.5-powered budget smartphone. Hence, they both are on totally different concepts, logically attracting different set of consumers. However, they have a few things in common, which can force a first time buyer to suppose over the aspects of two completely different phones.
DROID Incredible Display vs 4G LTE and Focus 2 Display
Firstly, both the phones share a common 4-inch screen. Hence, buyers can opt for Samsung Focus 2, as the highlight of the phone is its price. It will be available for just $49.99 at AT&T with a two-year contract from May 20.
On the other end, HTC has not shared any details regarding the price of their newly launched model. However, recently some reports got leaked which hinted that HTC Droid Incredible 4G LTE was expected to hit the Verizon stores May 31 at a price ranging between $199 and $299.99. The basic tag price of the device is speculated to be $149.
Hence, giving a thought on only the display and screen comparison, Samsung Focus 2 may become the first choice for buyers over HTC Droid Incredible 4G LTE (if the phone's rumored price comes out to be true.)
But Wait! One cannot just decide depending on the screen size, as HTC Droid Incredible 4G LTE scores over the Windows phone through the screen display. The HTC's new phone features a super LCD qHD display with 540 x 960 pixels of resolution topped with the latest HTC Sense 4.0 UI. On the other hand, Samsung Focus 2 would boast a Super AMOLED display which will be limited to 480 x 800 pixels of resolution.
AT&T vs Verizon
Secondly, DROID Incredible 4G LTE and Focus 2 4G LTE smartphones, both are backed by 4G LTE capabilities, which of course means a faster mobile broadband connections than other 3G or Wi-Fi version smartphones in the market. The new phones would also support mobile hotspots so that other devices linked to them can connect to the speedy networks too.
However, sharing this commonness has also made these two different OS phones clash, as basically they got introduced by two stiff competitors, the two largest wireless providers in the US market. Yes, you got it right - they are AT&T vs Verizon wireless operator. After a lot wait and tons of leaked detail, it was Verizon Wireless which showed off the new DROID Incredible 4G LTE with HTC. On the other hand, adding the third Windows handset to its portfolio, AT&T simultaneously introduced Samsung Focus 2, after Nokia Lumia 900 and HTC Titan II.
According to the numerous reports, both the networks are in a constant fight of declaring themselves as the best networks. It can be said as, recently, AT&T was noted claiming in a PCWorld report that their new LTE network was vastly superior to the one being offered from Verizon.
Turning on to Verizon Wireless, on their part as well, it was pointed out in a RootMetrics study that the company concluded its network as the best performing in real-world tests. According to RootMetrics, President Bill Moore was quoted saying in the report, AT&T's LTE might be faster, but our overall experience with AT&T was still slower than what we found with Verizon.
In reality, it can be believed that Verizon is the first and visibly aggressive company when it comes to providing the 4G LTE support. As the company holds the largest market share for 4G LTE and gives coverage to 22 enabled devices, including the New iPad.
Verizon's LTE service stands out since it is now available in two-thirds of the US regions, while AT&T's 4G network, by contrast, is much smaller, but growing.
AT&T, which launched its 4G services almost six months ago, is also doing well in the LTE network support and the company is expanding quickly. The company has reached 74 million people in a very short period of time and its HSPA+ network coverage jumps to 250 million people, this was informed in a CNET reports.
However, at the end, it all depends more on the device than the carrier.
Android vs Microsoft
DROID Incredible 4G LTE and Focus 2 smartphones' most prevalent and the hottest comparison category is their operating system.
While HTC DROID Incredible 4G LTE runs the latest Android OS version 4.0 dubbed Ice Cream Sandwich (ICS) topped by HTC Sense UI version 4.0., Samsung Focus 2 will come integrated with Windows Phone 7.5 Mango OS.
Microsoft's latest Windows version will have features like dynamic Live Tile Information, Twitter and LinkedIn integration in the People hub, Facebook-events integrated calendar, threaded email conversations support, visual voicemail, Outlook tasks support and much more. Other features of the OS include Shazam-like audio recognition, turn-by-turn Bing Maps navigation with voice guidance, Skydrive and Office 365 documents synchronization with PDF support, Microsoft Lync support, animated picture tiles, People/Groups gallery with Skydrive and Facebook sync, People Hub-integrated photo management, Zune SmartDJ multimedia mix support, video aspect ratio control capability while playback and more.
On the other end, HTC shares its features with HTC One X and One S and will offer its Beats Audio integration and enhanced video and photo capabilities.
Hence, a first time buyer, who has neither experienced an Android phone or a Windows phone, or anyone who would like to replace their existing OS phone with a new upgrade may choose either of the two. Therefore, there is fierce competition among the two smartphones, when preference of an operating system is concerned.
HTC DROID Incredible 4G LTE Other specifications
1.2Ghz dual-core Qualcomm S4 processor
1GB of RAM
8GB of internal storage with expansion up to 32GB through microSD card slot support
8 megapixel camera with autofocus, LED flash, BSI f/2.2, 28mm lens and 1080p HD video recording
VGA front-facing camera
Size: 121 x 60.9 x 11.68 mm
Weight: 132 grams
1700 mAh removable battery
WiFi 802.11 a/b/g/n
3.5mm headphone jack
Bluetooth 2.0
NFC
G-Sensor, Light Sensor, Digital Compass, Proximity Sensor
Samsung Focus 2 Other specifications
1.4GHz single-core processor as all other Windows phones
512MB RAM
8GB internal storage with no microSD card slot for expansion
5 megapixel rear-facing camera with 720p HD video recording capability
VGA front-facing camera
Size: 121.7 x 62.7 x 11 mm
Weight: 122 grams
WiFi 802.11 a/b/g/n
3.5mm headphone jack
Bluetooth 2.0
Support for rolling back to AT&T's HSPA+ network if you are outside the LTE coverage.
1750mAh removable battery
Well, its decision time now -- Samsung Focus 2 or HTC Droid Incredible 4G LTE -- out of the duo, which one will you buy? Swirl in your thoughts in the comments.
© Copyright IBTimes 2023. All rights reserved.