Samsung Galaxy Book Review: Feature Highlights For The Microsoft Surface Pro Competitor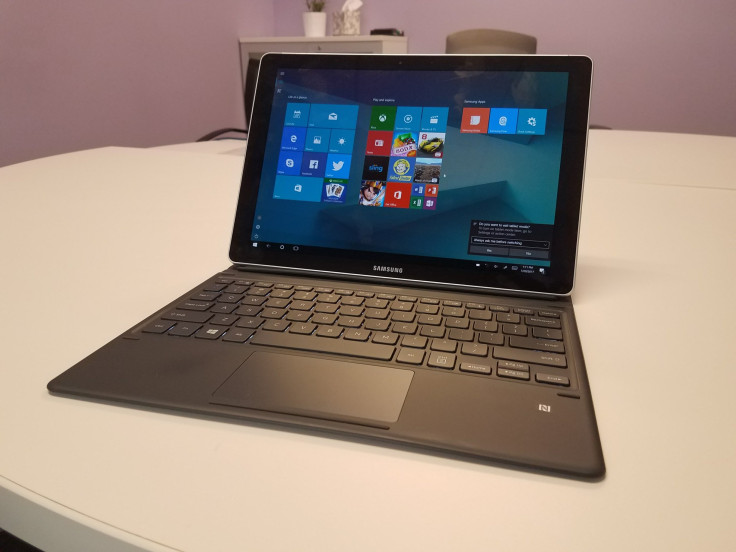 Samsung's latest high-end tablet, the Galaxy Book, was introduced in February as the manufacturer's answer to Microsoft's Surface Pro tablet. The general trend of tablets has shifted from a strictly handheld device to a product that can easily double as a notebook. Samsung has capitalized on this by including a folio-case keyboard in the box, where many rival tablets offer such accessories separately.
Are you considering the Samsung Galaxy Book? Here's a rundown of what you should know about the tablet.
- Of course, Samsung is known for is stellar, high-definition AMOLED displays. The Galaxy Book does not disappoint on this front. Its 12-inch display (there is also a 10-inch model) has a resolution is 2160x1440 and brightness at 360 nits. Its color accuracy is on point and viewing angles are good.
- The Samsung Galaxy Book includes an S-Pen stylus, which adds to its impressive touch screen sensitivity. While the stylus does not require charging, there is nowhere on the tablet to insert the accessory, which means it can easily be misplaced.
- For a premium tablet, the Galaxy Book's design is quite simple and bulky. It has rather thick bezels (3:2 aspect ratio) and weighs 1.66lbs, making it a rather heavy for a tablet. Especially with Samsung's smartphone designs becoming thinner and sleeker, it's surprising to see a tablet with an overall unremarkable design.
- The Galaxy Book is a 2-in-1 tablet, which ships its keyboard included, a plus. However, the keyboard can be difficult to use if not on a hard and flat surface. The chiclet keys can be hard to maneuver regardless of the surface. Overall, the device is better used as a tablet rather than a notebook. The keyboard's attachment strength is a plus but it can take a little bit of elbow grease to detach the tablet from the keyboard.
- Charging time on the Galaxy Book can be slow when the tablet is in use. Our battery life has been fair, between five and almost eight hours with usage including web browsing, video watching, and word processing. Samsung indicates battery power up to 11 hours. The tablet's battery capacity is 5070mAh.
- Users should have no issue with performance and multitasking. The Galaxy Book features a 7th Gen Intel Core i5 Processor.
- Ports on the Galaxy Book include two USB-C and a 3.5mm audio jack.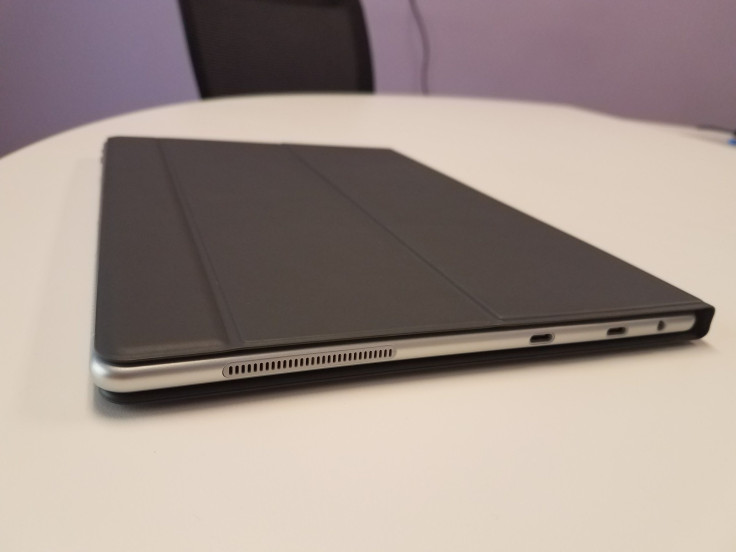 - The addition of expandable storage is a major plus. The Galaxy Book supports microSD cards up to 256GB.
- Samsung Notes is a favorite proprietary app for us on Galaxy smartphones; however, it doesn't translate well on the Galaxy Book as the app favors use with the S-Pen stylus over typing. Sticky Notes is a bit better for typing notes.
- While tablet cameras are typically not as strong as smartphones, the cameras on the Galaxy Book are decent. They include a 13-megapixel rear lens and 5-megapixel front-facing lens. With the tablet's heaviness can make it difficult to steady the app for a clear shot.
- The Galaxy Book is quite pricey, likely due to its included accessories. The tablet comes in two configurations, one with 4GB of RAM and 128GB of internal storage for $1,130 and the other with 8GB of RAM and 256GB of internal storage for $1,339.
© Copyright IBTimes 2023. All rights reserved.
FOLLOW MORE IBT NEWS ON THE BELOW CHANNELS