Samsung Galaxy Note 8 Specs To Include Star Pink Color Option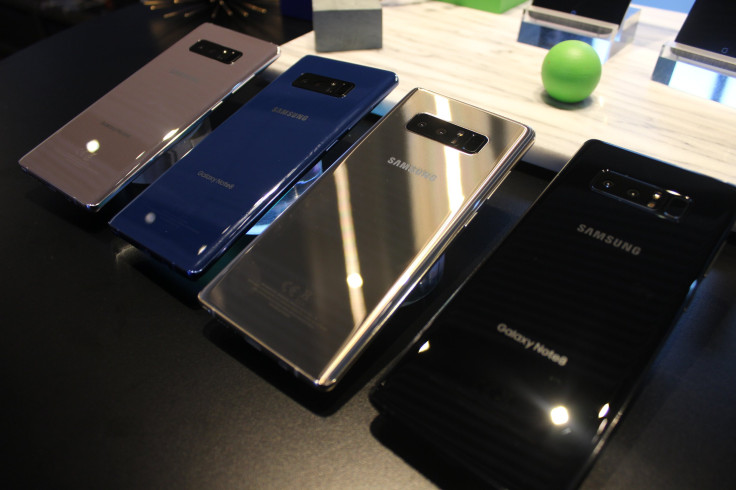 Consumers in Taiwan will be getting a version of the Galaxy Note 8, which may make prospective owners in other markets very jealous. The device will be available in a Star Pink color option, according to Taiwanese retailer, ePrice.
Taiwanese smartphone users are particularly fond of the color pink, with approximately 30 percent of mobile devices in the country being sold a shade of the color, according to SlashGear. This Galaxy Note 8 model is not Samsung's first pink device variant for Taiwan. The Galaxy S8 released in a Rose Pink color option exclusively to Taiwan in June.
Read: What Are The 8 Samsung Galaxy Note 8 Color Options?
Samsung announced its Galaxy Note 8 smartphone last Wednesday, showcasing four color options for the device: Midnight Black, Orchid Gray, Deep Sea Blue and Maple Gold. The manufacturer indicated that the Deep Sea Blue and Maple Gold options would be made available to international markets, while the Midnight Black and Orchid Gray color options would be available in the U.S.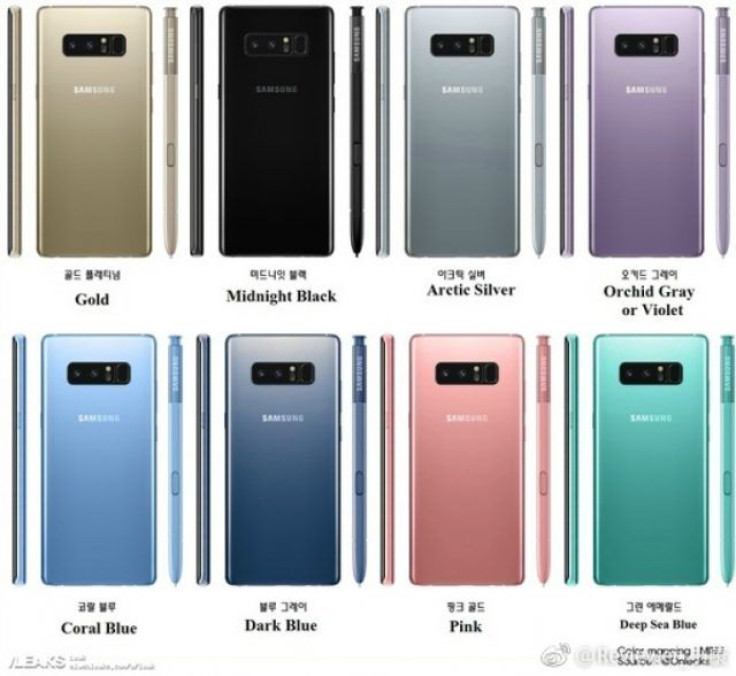 However, reports prior to the Galaxy Note 8 launch indicated the device may come in up to eight color options, which may be true, now that a pink model has been unveiled. Other prospective color options include Arctic Silver, Dark Blue, and Coral Blue. These color options have not been confirmed and there is no word on if and when they may release.
Samsung declined to address questions about the popular Coral Blue color option, which has been featured on devices including the Galaxy 8, Galaxy S8+, Galaxy S7 Edge and Galaxy Note 7. It is possible that like the Galaxy S8, the color option could be made available at a later date; however, Samsung has not unveiled a Coral Blue Galaxy Note 8.
There was also no Arctic Silver Galaxy Note 8 announced at Samsung's launch event last Wednesday either, but the manufacturer offers an Arctic Silver Galaxy S8, which is also available in the U.S.
Read: Samsung Galaxy Note 8 Release Price And Specs, Hands-On Preview
Of the available Galaxy Note 8 color options, it is likely the Deep Sea Blue model may be made available in the U.S. in coming months. The Galaxy S8 was also available in Maple Gold and that color option has yet to be released in the U.S. That could be an indication that the Maple Gold Galaxy Note 8 also won't be made available in the U.S.
The Galaxy Note 8 is currently available for preorder and will release to market Sept. 15, selling for between $930 and $960 in the U.S. The Star Pink Galaxy Note 8 will include all of the device's standard features and will sell for 34,200 TWD ($1,100).
© Copyright IBTimes 2023. All rights reserved.