Samsung Galaxy S5 Release Date Coming: Device To Feature 4 GB Of RAM As Samsung Announces First 8Gb LPDDR4 DRAM Chip?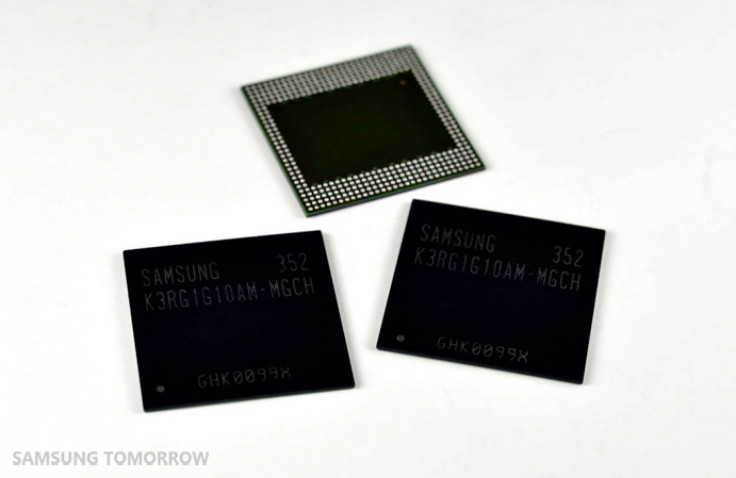 Samsung was the leader in DRAM development in 2013, having introduced 6Gb LPDDR3 DRAM chips to the market, which were implemented into the Galaxy Note 3 smartphone as 3GB mobile RAM modules. The manufacturer is now continuing its innovation as it introduces its latest chip, the industry's first 8Gb LPDDR4 Mobile DRAM chip.
The 8Gb low-power double data rate 4 (LPDDR4) DRAM chip will be used to make a 4GB mobile RAM module. Using a 20-nanometer manufacturing process, which packs the memory components closers together for higher memory capacity, Samsung was able to fit 8 Gigabits (Gb) of memory (which equals 1 Gigabyte or GB) onto a single silicon die. Four of 8Gb chips are combined to create a 4GB LPDDR4 module.
Samsung's new RAM chips not only provide a memory boost but also deliver performance enhancements and improved energy efficiency. Using the new Low Voltage Swing Terminated Logic (LVSTL) I/O interface, which is now the standard specification for LPDDR4 DRAM functionality, these new LPDDR4 chips have an increased data transfer rate of 3,200 megabits per second (Mbps) per pin, nearly twice the rate of the current 20nm-class LPDDR3 DRAM chips. Additionally, the LPDDR4 DRAM chips provide 50 percent higher performance than the fastest LPDDR3 memory and approximately 40 percent less energy at 1.1 volts.
Samsung DRAM: Then And Now
Previously, Samsung's 3GB mobile RAM, comprised of four 6Gb LPDDR3 DRAM chips, was the thinnest and smallest module on the market, providing data transfer speeds of up to 2,133 megabits per second (Mbps) per pin. The manufacturer boasted that the increased RAM brought "PC-like" performance to smartphones, with "seamless high-quality, full-HD video playback and faster multitasking," while aiding Samsung's LTE-Advanced technology, which allows for data network speeds of up to 150 Mbps.
Now, the 8Gb LPDDR4 mobile DRAM chips are expected to be utilized in large-screen UHD smartphones, tablets and ultra-slim notebooks that offer four times the resolution of full-HD imaging, as well as on high-performance network systems, according to Samsung. Many think this may indicate that the upcoming Samsung Galaxy S5 will feature 4GB mobile RAM.
Why The Samsung Galaxy S5 May Feature 4GB Mobile RAM
The publication ZDNet Korea recently reported that Samsung will begin mass-producing its LPDDR4 chips in early 2014, likely in preparation for the Galaxy S5 release. The device is already rumored to have a number of features that would benefit from the increased memory, data transfer speeds and energy efficiency that the LPDDR4 chips provide. The Galaxy S5 is expected to feature a 2560 x 1440 5.25-inch QHD AMOLED display with 560ppi density; recent reports also indicate that Samsung may announce a new 64-bit Exynos 6 processor at the Consumer Electronics Show in January. Such power-driving components would likely require equivalent RAM power that may not be provided by the current standard of 1GB or 2GB mobile RAM found in most high-end devices.
As said, the Samsung Galaxy Note 3 is the first smartphone to feature 3GB mobile RAM; however, RAM has been steadily increasing in mobile devices since 2012, when LG introduced the Optimus LTE 2, the first smartphone with 2G mobile RAM. Samsung quickly followed suit, implementing 2GB mobile RAM to a variant of its Galaxy S3. Since then, most high-end Android devices have used 2GB mobile RAM.
Is All Of That RAM Really Necessary?
RAM stands for random access memory, which is a type of computer memory that is most commonly used by programs to perform necessary tasks while the computer is on. Some argue that lots of RAM is not necessary, especially for devices such as phones due to them being expensive and their volatile nature. However, as devices and the apps they run become more advanced, a slight boost has been a benefit for many devices. RAM between 512MB and 1GB is often sufficient for most devices. The iPhone 5s and iPhone 5c both notably contain just 1GB mobile RAM. However, over time, iPhones tend to remain small, use lower-resolution displays, and processors with fewer cores and lower clock speeds. But many Android-powered devices, like those by Samsung, are constantly being released with larger, higher-resolution displays, and more powerful processors, which fuels the need for more RAM.
Samsung Galaxy S5 Release Date Rumors
The Samsung Galaxy S5 has not been confirmed to feature 4GB mobile RAM; however, considering the currently proposed release timeline for the device, many believe the S5 will feature a RAM upgrade. As said, Samsung is expected to unveil its Exynos 6 processor in January, while the 8Gb LPDDR4 DRAM chips are expected to go into mass production in early 2014. Some rumors suggest the Samsung Galaxy S5 will be unveiled at the World Mobile Congress in late February, and will release between March and April, dates that have also not yet been confirmed.
Do you think the Samsung Galaxy S5 will release with 4GB mobile RAM? Let us know in the comments below.
Follow me on Twitter @FionnaatIBT.
© Copyright IBTimes 2023. All rights reserved.