Samuel DuBose And Cincinnati's History Of Fraught Racial Relations With Law Enforcement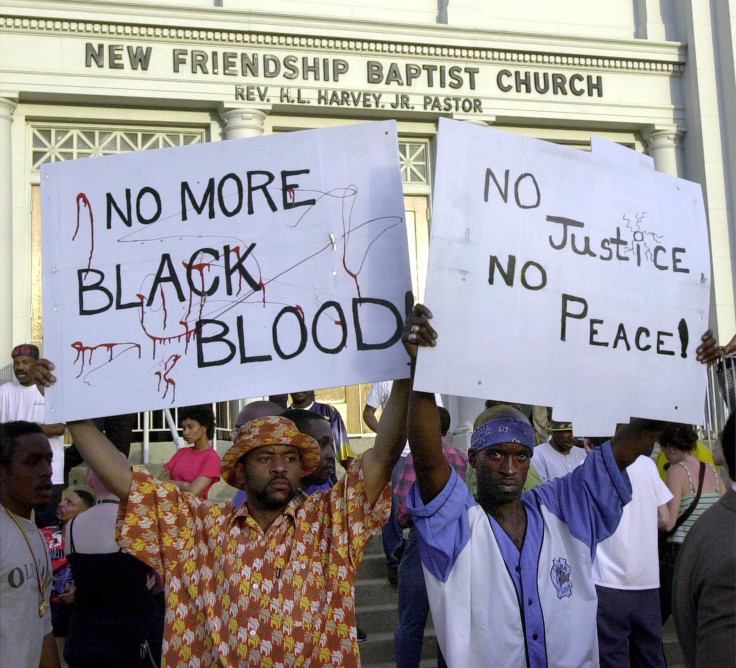 Race has once again come to the forefront of the debate about police brutality after a white University of Cincinnati police officer was indicted Thursday on murder and voluntary manslaughter charges for fatally shooting an unarmed black man in the head July 19. The death of Samuel DuBose is the latest in a series of cases nationwide in which a black person has ended up dead -- either as the result of police gunfire or under questionable circumstances while in police custody.
These cases have prompted nationwide protests, riots and discussions since Michael Brown, an unarmed black 18-year-old, was shot and killed by a Ferguson, Missouri, police officer last August.
A closer look at Ohio, particularly in and around Cincinnati, reveals that the off-campus shooting of DuBose by UC police Officer Ray Tensing during a routine traffic stop was far from an isolated example of the area's history of fervent tensions between the local minority population and law enforcement. In Cincinnati the relationship has long been fraught.
'Uneasy Experiences'
For Alex Schutte, who previously counted herself among the city's black residents, it's a "reel of uneasy experiences" that define her heritage when she reminisces about living there. "I never met anyone who denied Cincinnati's pride and just the same, not a single person denied the segregationist structure that many prideful(!) Cincinnati communities embody," Schutte wrote in an essay for Cincinnati site Urban Cincy. "Even with the substantial African-American Cincinnati history, it's in my humblest opinion that the segregated communities noticeably affect the consciousness of race related issues and identity."
Racial strain has been all but a way of life in Cincinnati for decades, and these racially charged relations have taken several black lives in the process. Among the cases:
-- Roger Owensby Jr. was asphyxiated in police custody in November 2000 as officers tried to arrest him in the city's Roselawn neighborhood.
-- Jeffrey Irons was fatally shot by a city officer the same month in the Pleasant Ridge community for allegedly stealing deodorant and shaving cream from a grocery store, the Cincinnati Enquirer reported. Irons had grabbed an officer's gun and shot Officer Tim Pappas in the hand before another officer, Frederick Gilmer, shot and killed him.
Those are just two of many black men who have died in police confrontations. Riots ensued in 2001 after the 15th African-American Ohio resident since 1995 was killed at the hands of a white police officer.
In that instance, Cincinnati police Officer Stephen Roach fatally shot 19-year-old Timothy Thomas while chasing him in a city area called Over-the-Rhine in April 2001. Thomas' death led to three nights of rioting, Cincinnati's WCPO-TV reported, leading civil rights leaders to call for an economic boycott of the city. Roach faced charges of negligent homicide and obstruction of official business, but Thomas' mother, Angela Lesiure, said the two misdemeanor counts were a "slap on the wrist."
"I don't feel like justice was served. I feel it was not severe enough for the severity of what he did," Lesiure told WCPO. "He took a life. Negligence doesn't cut it for me.''
Roach faced a bench trial instead of a jury trial, and was acquitted of the charges in September 2001.
Camera Makes A Difference
The biggest difference between this month's shooting death of DuBose, 43, and Thomas' slaying more than a decade ago may be the fact that DuBose was shot by an officer who was wearing a body camera, which provided explicit footage of what happened after Tensing stopped DuBose because his vehicle lacked a front license plate.
The footage shows Tensing asking DuBose for his driver's license, which DuBose did not appear to have with him. Tensing then asks DuBose to unbuckle his seat belt, which he refused to do. At that point DuBose's vehicle begins to slowly move forward, prompting the officer to fire a shot into the driver's side window, hitting DuBose in the head and killing him.
Tensing's account of what happened was dramatically different from what the video shows. The officer claimed the car dragged his body after he fell, but the footage does not appear to support that.
"This office has probably reviewed upward of 100 police shootings," Hamilton County (Ohio) Prosecutor Joe Deters said, "and this is the first time where we thought this is without question a murder."
Tensing was wearing one of 80 body cameras that the university's police department purchased last fall, the Dayton Daily News reported. The university currently employs 72 officers and 26 security officers, according to its website, but it was immediately unclear if all officers were required to wear the cameras during their shifts.
Some other police departments in the greater Cincinnati area also have body camera programs. Police in nearby Erlanger, Kentucky, started using body cameras in 2009, well before Brown's death in Ferguson helped turn the technology into a national issue. Body cameras are owned by the Cincinnati Police Department, but not all officers were required to wear them because there were only a limited amount available from a 2014 pilot program, Cincinnati's WLTV-TV reported.
However, there has been a push for all area police officers to now wear body cameras. Deters added that the decision to indict Tensing would have been nearly impossible without the video evidence of his encounter with DuBose.
"I think it's a good idea for police to wear them because nine times out of 10 it clears them of wrongdoing, and in this case, obviously, it led to an indictment for murder," Deters told Cincinnati's WLWT-TV.
DuBose's death has also prompted the university to announce that UC police would no longer patrol off-campus streets. The school also was expected to review its police department's use-of-force procedure, which states that campus officers "should not discharge a firearm at or from a moving vehicle except as the ultimate measure of self-defense or defense of another when the suspect is using deadly force," CNN reported.
'The Cincinnati Model'
In a statement, university President Santa J. Ono said the University of Cincinnati would "take necessary steps to address any training, staffing and hiring policy issues that may be indicated by this tragic event."
Some activists have suggested that the city's entire police department take notice of Over-the-Rhine, the neighborhood where Thomas was fatally shot in 2001. The community has seen dramatic progress since the 2001 riots and is considered a model by some, the Huffington Post reports:
Uniformed patrolmen and women are out on bicycles, in cars and on foot, exchanging pleasantries with longtime African-American residents and their recently arrived young white neighbors. Ohio's third-largest metropolis is in the midst of a renaissance, a tentative recovery from a volatile period of high crime, racial strife and economic decline. What some advocates call "The Cincinnati Model" of law enforcement is being promoted as a blueprint for police reform in other cities—from New York to Albuquerque, N.M. to Ferguson, Mo.—that struggle with urban violence and mistrust of anyone armed with a badge and a gun.
While Over-the-Rhine has come a long way, DuBose's death is a tragic reminder that there are still parts of the greater Cincinnati area that need more attention to the matter of police brutality as it relates to the local minority population.
"As a community, we'll resolve to make sure justice is the outcome," P.G. Sittenfeld, a Cincinnati city councilman, said in a statement. "And as we keep Mr. DuBose and his family in our thoughts and prayers, let us also honor his memory not with hate, but with a renewed recognition that black lives matter -- and a renewed determination to do everything we can to keep something like this from ever happening again."
© Copyright IBTimes 2023. All rights reserved.